Site Notice
Please check our Coverage page to see what deserves an article and what doesn't.
Please join in a discussion about our coverage.
Be sure to join the discussions going on the NIWA Wikis Discord Server.
Please no leaked content, however information from interviews and information data-mined from officially released products is allowed.
Famicom Network System
Jump to navigation
Jump to search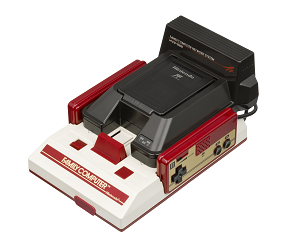 The Famicom Network System (Family Computer Network System, Japanese: ファミリーコンピュータ ネットワークシステム), also referred to as the Famicom Modem was Nintendo's first known online platform for a home console, specifically the Famicom (Japanese version of the Nintendo Entertainment System). It was released in Japan in September of 1988, and is a dial-up modem that attaches to the Famicom, supporting its own special cartridges. The cartridges, known as Tsuushin Cartridges compared with a Famicom Game Pak (which are of a rectangular shape excluding where their connector part is) appear as long, rectangular vertical portrait-shaped cards.
The service was part of a collaboration between Nomura Securities (specialising in financial services, global investments, financial securities) and Nintendo. The focus for this platform was not on online video games (though the released Konami licensed Tsuushin Shogi Club game for the Famicom Network System possibly was one, and some prototypes were conceived including an online version of Go) in this case, on request of the Nintendo president at the time Hiroshi Yamauchi).
The main services for the service (but possibly not limited to) was live stock trading, horse race betting (the most popular software; later re-released on other consoles), race boat betting and information on video game reviews moderated by a network of toy stores (transmitted through the 1991 introduced Super Mario Club software and service).
The service was reportedly discontinued in 2001, 13 years after its initial release, with the main use being on the JRA-PAT, the previously mentioned horse race betting game. The peripheral sold a total of around 130,000 units.
Cancelled adaption for Nintendo of America
[
edit
]
According to a June 1989 New York Times article by Michael Freitag, an official localization of the network of some kind for the Nintendo Entertainment System in the USA was discussed between Nintendo and a different company, AT&T with Peter Main (Nintendo of America vice marketing president) estimating that it may release in that region in 1990.
In the end, no release candidate modem for the Famicom outside of Japan was ever released. The Teleplay Modem was an unofficial (and unreleased) third party NES modem project with three games known as Battle Storm, Terran Wars and Sea Battle but both Nintendo and SEGA refused to give it a license.
See also
[
edit
]
Satellaview (Defunct Super Famicom satellite online service)
Super Famicom NTT Communication Modem NDM24 with NDK10 controller (Dial-up modem for the Super Famicom, possibly unofficial)

| | |
| --- | --- |
| Controllers | |
| Add-on devices | |
Nintendo online services
 • Famicom Network System (Famicom, 1988)
 • Satellaview (Super Famicom, 1995)
 • Randnet (Nintendo 64DD 1999)
 • Mobile System GB (Game Boy Color/Game Boy Advance w/Mobile GB Adapter and mobile phone, 2001)  • Online Nintendo GameCube gameplay (Nintendo GameCube, w/GameCube Broadband Adapter/Modem Adapter, 2002)
 • Nintendo Wi-Fi Connection (Wii, Nintendo DS Lite, Nintendo DSi, Nintendo DSi XL optionally w/Nintendo Wi-Fi USB Connector, Nintendo DS & DSi Browser, 2006)
 • Nintendo Network (Nintendo 3DS, Wii U, Web, 2012/3)
 • Nintendo Switch Online (2018; Nintendo Switch)
 • Websites (Nintendo web browser games)