Site Notice
We have a limited coverage policy. Please check our coverage page to see which articles are allowed.
Please no leaked content less than one year old, or videos of leaks.
Content copied verbatim from other websites or wikis will be removed.
LEGO Nintendo Entertainment System
Jump to navigation
Jump to search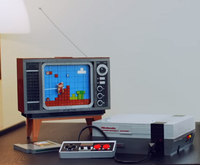 The LEGO Nintendo Entertainment System is an interactive Nintendo toy based on the Nintendo Entertainment System, which is part of the LEGO Super Mario partnership. It consists of a LEGO version of a Nintendo Entertainment System and a LEGO TV with a lever.
Using a LEGO Mario Game Pack from the LEGO Super Mario Starter Course, players will be able to create an interactive Super Mario Bros. toy, which animates with on-screen enemies, obstacles, power-ups, and plays original music when the lever is turned.[1] It is currently unknown if other Nintendo series will be supported.
Trivia
References