Site Notice
We have a limited coverage policy. Please check our coverage page to see which articles are allowed.
Please no leaked content less than one year old, or videos of leaks.
Content copied verbatim from other websites or wikis will be removed.
NES Advantage
Jump to navigation
Jump to search
NES Advantage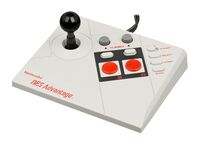 The NES Advantage controller
The NES Advantage is an arcade-like controller manufactured by Asciiware and released by Nintendo for the Nintendo Entertainment System. It is designed to be placed on a flat surface and by used like an arcade machine - the left hand moves the joystick and the right hand presses the buttons.
Features
The NES Advantage features turbo modes for the A and B buttons, which can be toggled on and off by pressing the Turbo A and Turbo B buttons. Players can turn the turbo dials to adjust how fast the controller will repeatedly press each button. It has a 'slow' button, which puts certain games in a pseudo-slow-motion mode by repeatedly pressing a virtual start button, but will not work for certain other games, like those with pause menus or requirements for accessories like the NES Zapper or R.O.B.. The final notable feature is the player switch. The NES Advantage plugs into both controller slots, so for multiplayer games, it can change input between Player 1 and Player 2 if a player moves the switch.
External links