Site Notice
We have a limited coverage policy. Please check our coverage page to see which articles are allowed.
Please no leaked content less than one year old, or videos of leaks.
Content copied verbatim from other websites or wikis will be removed.
Kid Icarus (game)
Jump to navigation
Jump to search
For the series as a whole, see Kid Icarus (series).
Kid Icarus
光神話 パルテナの鏡
Hikari Shinwa: Palthena no Kagami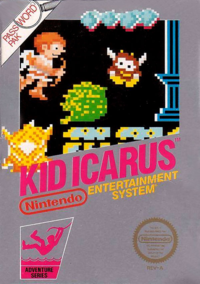 Boxart for Kid Icarus
| | |
| --- | --- |
| N. America: | July 1987 (NES} |
| Japan: | December 19, 1986 (NES} |
| Europe: | February 15, 1987 (NES) |
Kid Icarus (光神話 パルテナの鏡, Hikari shinwa: Parutena no Kagami, Myth of Light: The Mirror of Palutena, or Kid Icarus: Angel Land Story) is a platforming video game developed by Nintendo Research & Development 1 (what is now known as Intelligent Systems) and TOSE, and published by Nintendo for the Famicom Disk System in 1986 and the Nintendo Entertainment System in 1987. It was designed by Toru Osawa and Yoshio Sakamoto, directed by Satoru Okada, and produced by Gunpei Yokoi. It is the first game in the Kid Icarus series.
The game has been re-released several times: on August 10, 2004, for the Game Boy Advance as part of the Famicom Mini Series in Japan only, on February 12, 2007, on the Wii's Virtual Console and on January 18, 2012 a 3D remake was released on the Nintendo 3DS known as 3D Classics: Kid Icarus.
Blurb
| | |
| --- | --- |
| | This article is a stub. You can help NintendoWiki by expanding it. |
Plot
Kid Icarus is set in a time when man and gods coexisted, living in harmony in the kingdom of Angel Land which was ruled by two goddesses Palutena the Goddess of Light and Medusa the Goddess of Darkness. Palutena lived in the Palace in the Sky and administered light, assuring that man was able to grow crops successfully and live in peace. However Medusa, Goddess of Darkness, hated humanity and sought to undo the good Palutena had done; drying up crops and turning people into stone. In anger Palutena transformed Medusa into a hideous monster and banished her to the Underworld. Medusa promised revenge, planning to take over the Palace in the Sky. Medusa joined forces with the monsters and evil spirits of the Underworld and soon her army began to surpass that of Palutena's centurions.
A war between Palutena's forces and Medusa's monsters soon began. Medusa led a surprise attack upon Palutena's army which suffered heavy losses, many of the centurions being turned to stone. It was then that Medusa took possession of the Three Sacred Treasures, the Mirror Shield, the Arrow of Light and the Wings of Pegasus, which she gave to her most powerful followers. Palutena was imprisoned deep within the Palace in the Sky, now ruled by Medusa. The previously peaceful realm of Angel Land was quickly turned from a paradise into a land of darkness ruled by the dark god Medusa.
Without any other hope Palutena sought the assistance of Pit, a young warrior who used to be in charge of Palutena's personal body-guard who was locked in a dungeon in the Underworld at this time. Palutena used her magical prowess to arm Pit with a bow and arrow to assist him in his escape from the Underworld. With most of Medusa's guards now occupying the Palace in the Sky Pit's escape was made possible.
Pit must then travel out of the Underworld, across the Overworld and into Skyland before confronting Medusa in the Palace in the Sky after having retrieved the three treasures. After defeating Medusa Pit finds the restored Palutena within the palace. She then bestows on him new armor. If the secret ending is reached, (all upgrades and hearts) Pit will be turned into a teenager and afterwards receive a kiss of gratitude from Palutena.
Gameplay
Kid Icarus is an action platformer with role-playing elements. The player controls Pit through two-dimensional levels, which contain monsters, obstacles and items. Pit has basic abilities such as jumping and crouching but despite having wings, he cannot fly. Volume 204 of Nintendo Power contained an article which described the game as blending together elements from Super Mario Bros., The Legend of Zelda and Metroid, stating that Pit can "jump like Mario, collect items like Link, and shoot enemies like Samus.
Technical Details
| | |
| --- | --- |
| | This article is a stub. You can help NintendoWiki by expanding it. |
Other releases
| | |
| --- | --- |
| | This article is a stub. You can help NintendoWiki by expanding it. |
External links