Site Notice
We have a limited coverage policy. Please check our coverage page to see which articles are allowed.
Please no leaked content less than one year old, or videos of leaks.
Content copied verbatim from other websites or wikis will be removed.
Super Smash Bros. Melee
Jump to navigation
Jump to search
Super Smash Bros. Melee
大乱闘 スマッシュ ブラザーズDX
Dairantō Sumasshu Burazāzu Derakkusu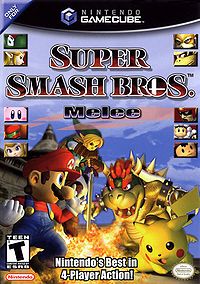 Boxart for Super Smash Bros. Melee
| | |
| --- | --- |
| N. America: | December 3, 2001 |
| Japan: | November 21, 2001 |
| Europe: | May 24, 2002 |
| Australia: | May 31, 2002 |
Super Smash Bros. Melee is the second game in the Super Smash Bros. series, released on the Nintendo GameCube in late 2001 and early 2002 depending on region. It is the best-selling Nintendo GameCube game, selling over seven million copies over the system's lifetime and being re-released twice as a "Best Seller" and under the Player's Choice line.
Blurb
The all-star brawl is on!
Nintendo's biggest stars are all here! Duke it out with Mario, Link, Donkey Kong, the Ice Climbers, and many more.
The craziest four-player fighting game of all time returns for a frantic, fun-filled Nintendo GameCube melee! Pick a classic character and enter the fray.
A brand-new Adventure mode takes you through classic side-scrolling worlds like the Mushroom Kingdom!
Choose from over 20 stages and wage battles with tons of items, like Bob-ombs and the Super Scope.
Tons of custom options await, each with a wild twist. Try playing Giant Melee for a gargantuan clash!
Battle through a new Coin match, fight for style points in Bonus mode, or stage a tournament with up to 64 players!
Unlock cool game secrets! Take on Event Mode and fight through specific battle challenges.
As you play, collect nearly 300 detailed trophies of characters and items from throughout Nintendo's history.
Gameplay
While basic gameplay is retained from the original game, many additional options have been added in Super Smash Bros. Melee. These include new battle options, such as Coin and Bonus battles, and Special Melee, which allows players to set up custom rules for battles.
Other additional gameplay modes have also been added. The most prominent of these are Adventure mode, in which players go through several stages based upon the worlds of various game series, and Event matches, in which players take on a series of specific challenges. This is in addition to the returning gameplay modes. Also introduced in this game are trophies, collectible figurines depicting Nintendo characters and items from across each of their systems.
Technical details
Media

Nintendo GameCube Game Disc

Save data size

Save data: 11 blocks
Screenshots: 3-12 blocks

Supported features

Progressive scan

Input / compatible controllers
Other releases
| Title | Cover art | Platform | Release date(s) | Notes |
| --- | --- | --- | --- | --- |
| Super Smash Bros. Melee | | Nintendo GameCube (Player's Choice) | 2003 | A reprinting of the original game under the Player's Choice line. |
| Super Smash Bros. Melee | | Nintendo GameCube ("Best Seller") | 2004 | A reprinting of the original game as a "Best Seller" title. |
External links