Site Notice
We have a limited coverage policy. Please check our coverage page to see which articles are allowed.
Please no leaked content less than one year old, or videos of leaks.
Content copied verbatim from other websites or wikis will be removed.
DK Bongos
Jump to navigation
Jump to search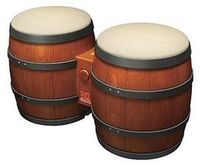 The DK Bongos are a controller for the Nintendo GameCube designed by Namco Bandai. The controller was primarily designed with the Donkey Kong franchise in mind, with the appearance of a pair of barrels that have been put together as a pair of bongos. It is only compatible with four games: Donkey Konga, Donkey Konga 2, Donkey Konga 3, and Donkey Kong Jungle Beat. Donkey Kong Barrel Blast was originally planned to use the Bongos before it was switched from the Nintendo GameCube to the Wii. The bongos were also planned to be compatible with Plättchen Twist 'n' Paint, but the functionality was removed since Nintendo did not want to alienate anybody who did not own the accessory. The DK Bongos could be purchased individually or in a bundle pack with each of its compatible games (with the exception of Donkey Konga 3, which was only released as an individual game).
The DK Bongos feature three primary buttons: the two drums and a start button on the middle section. The drums themselves actually feature two inputs each, making a total of five buttons. The bongos also feature a built in microphone to detect clapping, though the sides of the bongos can be hit to replicate it.
In addition to the DK Bongos being compatible with Nintendo GameCube software on the Wii, the bongos are also compatible with Wii software that can use a Nintendo GameCube Controller, and are compatible with the Wii U via the Nintendo GameCube Controller Adapter.
See also