Site Notice
We have a limited coverage policy. Please check our coverage page to see which articles are allowed.
Please no leaked content less than one year old, or videos of leaks.
Content copied verbatim from other websites or wikis will be removed.
Special Tee Shot
Jump to navigation
Jump to search
Special Tee Shot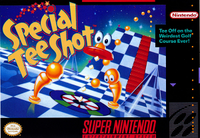 Unreleased SNES version
| | |
| --- | --- |
| N. America: | Cancelled |
| Japan: | 1996 |
Special Tee Shot is a game for the Super Famicom that could be downloaded on to an 8M Memory Pack for the Satellaview exclusively to Japan.
Players that did not download it on to an 8M Memory Pack can no longer officially play it (due to the termination of the service). Furthermore, there is a play startup limit before the game is made unplayable. This makes it a very valuable game.
In 2019, a prototype of a SNES cartridge version was dumped with a 1992 copyright note. Previously such a cartridge had been found in 2004, but had not been dumped.
Summary
Special Tee Shot is a golf game featuring a red ball character. The game was eventually reworked into Kirby's Dream Course, featuring Kirby instead, and Special Tee Shot never gained a standard release.
References
| | |
| --- | --- |
| | This article is a stub. You can help NintendoWiki by expanding it. |