Site Notice
Please check our Coverage page to see what deserves an article and what doesn't.
Please no leaked content less than one year old, or videos of leaks.
Donkey Kong Country: Tropical Freeze
Jump to navigation
Jump to search
Donkey Kong Country: Tropical Freeze
ドンキーコングトロピカルフリーズ
Donkī Kongu Toropikaru Furīzu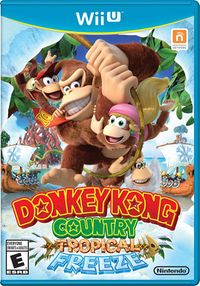 Boxart of Donkey Kong Country: Tropical Freeze
| | |
| --- | --- |
| N. America: | February 21, 2014 |
| Japan: | February 13, 2014 |
| Europe: | February 21, 2014 |
| Australia: | February 22, 2014 |
Donkey Kong Country: Tropical Freeze is the fifth game in the Donkey Kong Country series of games, created by Retro Studios in collaboration with Monster Games for the Wii U as a follow-up to the previous title, Donkey Kong Country Returns. The game was originally planned to be released in November of 2013 before being pushed back to December, and was later pushed back again to February 2014.
| | |
| --- | --- |
| | This section is a stub. You can help NintendoWiki by expanding it. |
Take back DK Island from arctic invaders!
An adventure spanning six unique islands!
Journey with Donkey Kong™ and friends as you explore lush jungles, sparkling waters... and ice-covered tropical islands!?
New moves and features!
Never-before-seen abilities and breathtaking camera angles combine to produce more dynamic gameplay.
Cranky Kong™ and Dixie Kong™ join in the adventure!
Mix and match with Donkey Kong for exciting single and multiplayer action!
On Donkey Kong Island, Donkey Kong is celebrating his birthday with Diddy Kong, Dixie Kong, and Cranky Kong. Out at sea, however, is a group of vikings called the Snomads, who take notice of Donkey Kong Island. Blowing into a massive horn, their leader blows the four Kongs away and covers the entire island in snow and ice. Donkey Kong and friends must now travel across several islands to return to their home and reclaim it from the Snomads.
Gameplay
[
edit
]
As a follow-up, much of the gameplay is retained from Donkey Kong Country Returns. In addition to Donkey Kong's roll and handslap, players can now also swim through the water.
Players take control of Donkey Kong, and can obtain Diddy Kong as a partner as well as Dixie Kong and Cranky Kong by breaking specially-marked barrels. Each of the three Kongs has their own unique abilities: Diddy can use his Rocketbarrel Pack to slow Donkey Kong's fall, Dixie can spin her ponytail to fly him up higher, and Cranky Kong can bounce on his cane. The partner character can also once again be controlled by a second player. Another new mechanic is the Kong POW, a special move that can only be performed by a partner that destroys all enemies on screen and turns them into an item depending on the partner.
Like in Returns, within each stage are four "KONG" letters and a number of puzzle pieces to collect; the KONG letters unlock a bonus stage, while the puzzle pieces unlock extras. In addition, when a stage is beaten players can replay the stage in Time Attack to earn a medal and have their time posted on the online leaderboard.
Technical details
[
edit
]
Media

Wii U Game Disc
Digital download

Download size

Wii U: 11.4 GB
Nintendo Switch: 6.6 GB

Supported features

Nintendo Network (online leaderboards), 2-player local multiplayer

Input / compatible controllers
Other releases
[
edit
]
Title
Box art
Platform
Release date(s)
Notes
Donkey Kong Country: Tropical Freeze
Wii U (Nintendo Selects)
NA: March 11, 2016
EU: April 15, 2016
AUS: December 1, 2016
A re-release of the game under the Nintendo Selects line.
Donkey Kong Country: Tropical Freeze
Nintendo Switch
NA/PAL: May 4, 2018[1][2]
JP: May 3, 2018[3]
A direct port of the game to Nintendo Switch. This version of the game features a new "Funky Mode", allowing players to play as Funky Kong.
Updates
[
edit
]
| Version no. | Release date(s) | Description |
| --- | --- | --- |
| 1.1.0 | April 3, 2014 | Fixes a bug in which stage 3-4 would not be unlocked after clearing 3-3. |
External links
[
edit
]
References
[
edit
]