Famicom Tantei Club: Kieta Koukeisha​
Jump to navigation
Jump to search
Famicom Tantei Club: Kieta Kōkeisha
ファミコン探偵倶楽部 消えた後継者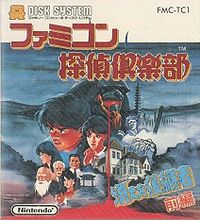 Disk 1 Boxart
Famicom Tantei Club: Kieta Kōkeisha​ (ファミコン探偵倶楽部 消えた後継者, "Famicom Detective Club: The Missing Heir") is a text-adventure game, which was developed and published by Nintendo for the Famicom Disk System in 1989. It is the first game of the Famicom Tantei (Detective Club) series and is another primarily text based game, like Shin Onigashima. The game was never released outside of Japan and was released on two disks.
In 2004, the game was compiled as part of the Game Boy Advance Famicom Mini (Series 3), along with its sequel Famicom Tantei Club Part II: Ushiro ni Tatsu Shoujo.
The nameless protagonist has lost his memory and is found lying on the ground by a man named Amachi. He later revisits the cliff and meets Ayumi Tachibana; an assistant detective who asks the protagonist to investigate the murder of Kiku Ayashiro.
External links
[
edit
]
Template:Famicom Tantei Club series