Flip Wars
From NintendoWiki, your source on Nintendo Information. By Fans, For Fans.
Flip Wars
バトルスポーツ めく〜る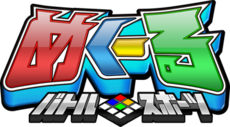 Japanese game logo
Developer:
Over Fence[1]
Publisher:
JP: Over Fence
WW: Nintendo[2]
Platform:
Nintendo Switch
Category:
Action
Players:
1-4
Predecessor:
N/A
Successor:
N/A
| | |
| --- | --- |
| N. America: | August 10, 2017[3] |
| Japan: | May 18, 2017[4] |
| Europe: | July 6, 2017[5] |
| Australia: | Winter 2017[6] |
Flip Wars is an action party game for the Nintendo Switch. The game was developed by Japanese developer Over Fence, and was released on the Nintendo eShop in Japan in May 2017. The game was later released in Europe in July 2017, and in North America in August, published by Nintendo
Blurb
Nintendo eShop
Pull off the ultimate color scheme!

This tense multiplayer action game will have you stomping to flip over panels–and unwitting opponents! To win, flip the most panels to your color in local battles, online, or single-player. The more you flip, the faster you'll move in a mad dash to nab power ups. Increase your flip range, turn invincible, and more across 3 modes and 12 arenas! Compete alone or against up to 3 players to see who's the best at each mode: flip the most panels before time runs up in Panel Battle, knock out the most opponents in Time Battle, or outlast your rivals in Life Battle. All 12 arenas have 4 layouts to choose from, some containing hazards like panel-flipping buttons, beam cannons, and waves so beautiful they truly stun competitors. Learn the art of the flip with tutorials and try your hand at achievements. When you're ready to compete, jump into an online battle or a private room with friends via local wireless. No matter how you play, it's time to think fast and pull off the ultimate color scheme!
Gameplay
Up to four players are placed on a board, with the goal being to flip the most panels by jumping into the air and slamming them rear-first, flipping them to the color corresponding to the player. As players flip panels they can discover power-ups, such as ones that increase their flipping range and increasing running speed.
Flip Wars can be played locally or online.
Development
A brief glimpse of the game was first shown off during the Nintendo Switch Presentation 2017 event. Nintendo would later reveal Project Mekuru during its Nindies Showcase Event in February 2017 as a Nintendo Switch exclusive, under the working title Project Mekuru.[1] The game would finally be shown off during the April 2017 Nintendo Direct.[2] A trailer would later be released by Over Fence, promising additional information on May 8[7], including the game's official Japanese title of Battle Sports Mekuru.[7][8] The game's English title, Flip Wars, was later revealed when the game was showcased at a media event in Europe.[9]
The idea for Flip Wars originated with Senri Tsunokawa, who was inspired by an online version of the 1995 Tiger Electronics game Lights Out.[10] Because much of the staff of Over Fence was composed of ex-Hudson Soft employees, who had worked with Nintendo in the past, the company decided to work with Nintendo to develop and release the game for Nintendo Switch.[10] An earlier version of the game featured Mii characters as the playable characters[1], but they were replaced with characters in futuristic space suits as the developers did not feel that Miis fit the game's premise.[10]
Technical details
| | |
| --- | --- |
| Media | Digital download (Nintendo Switch) |
| Download size | 350 MB |
| Supported features | Online play |
| Input / compatible controllers | |
External links
References