Site Notice
Please check our Coverage page to see what deserves an article and what doesn't.
Be sure to join the discussions going on our board.
Pokémon Red and Blue Versions
Jump to navigation
Jump to search
Pokémon Red Version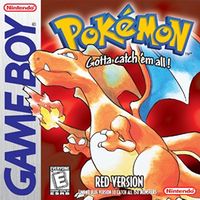 Boxart of Pokémon Red Version
Pokémon Blue Version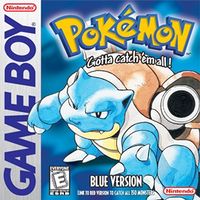 Boxart of Pokémon Blue Version
N. America:

September 28, 1998

Europe:

June 10, 1999
October 5, 1999

Australia:

October 23, 1998
Pokémon Red Version and Pokémon Blue Version are the first games in the Pokémon series to be released outside of Japan for the Game Boy. While the games are based on the original Pokémon Red and Green Versions released in Japan, they use the improved code of the Japanese Pokémon Blue Version. They were released in North America on September 28, 1998.
The games were later remade for the Game Boy Advance as Pokémon FireRed and LeafGreen.
"You've finally been granted your Pokémon trainer's license. Now, it's time to head out to become the world's greatest Pokémon trainer. It's going to take all you've got to collect 150 Pokémon in this enormous world. Catch and train monsters like the shockingly-cute Pikachu. Face off against Blastoise's torrential water cannons. Stand strong when facing Pidgeot's stormy Gust. Trade with friends and watch your Pokémon evolve. Important--no single Pokémon can win it all. Can you develop the ultimate Pokémon strategy to defeat the eight GYM Leaders and become the greatest Pokémon Master of all time?"
Like all main series Pokémon games, Red and Blue features a young boy on his journey to defeat the eight gym leaders and the Elite Four in order to become a master. The player starts in Pallet Town where they will meet Professor Oak, who lets the player choose from one of three starter Pokémon. Later Pokémon will be available for capture later on the journey.
Gameplay
[
edit
]
The Pokémon games are different from most RPGs by the fact that the player must catch their "party" to battle other Pokémon. The player may run into other Trainers who will demand to fight. Winning fights against other trainers will give the player money. In a couple of towns, there are gyms where the player must defeat the gym leaders. Defeating a gym leader will earn the player a badge. There are eight badges in all. Earning all eight will unlock access to the Elite Four. Defeating the Elite Four and the Champion will have the player become the Champion and win the game.
Pokémon can also be traded with other players using a Game Link. Both versions has exclusive Pokémon only obtainable in that version, and must be traded to get in the other game.
Technical details
[
edit
]
Media

Game Boy Game Pak, Nintendo 3DS digital download

Supported features

GB: Battery save, Game Link Cable
3DS: wireless communications

Input / compatible controllers

GB: Game Boy
3DS: Nintendo 3DS
Other releases
[
edit
]
Title
Boxart
Console
Release Date(s)
Notes
Pokémon Red Version
Pokémon Blue Version
Virtual Console (Nintendo 3DS)
2016
Emulated ports for Nintendo 3DS, allowing for special emulator features. Communication between these games as well as Yellow is possible with wireless communications.



Reception
[
edit
]
Pokémon Red and Blue have sold over 15 million copies, 10.4 million copies in Japan and 8.6 million copies in North America.
The game was critically acclaimed, earning a 10 out of 10 on IGN. Nintendo Power listed the game as #3 on the Top Ten Best Gameboy Games.
External links
[
edit
]
References
[
edit
]
| | |
| --- | --- |
| | This article is a stub. You can help NintendoWiki by expanding it. |