Splatoon 2
From NintendoWiki, your source on Nintendo Information. By Fans, For Fans.
Splatoon 2
スプラトゥーン2
Supuratūn 2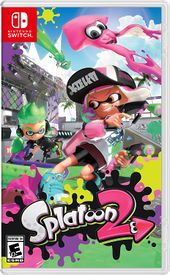 Boxart of Splatoon 2
Splatoon 2 is an online-based shooter game for Nintendo Switch, and the sequel to the 2015 Wii U title Splatoon. Originally showcased during the Nintendo Switch reveal, the game was later confirmed to be a sequel and is currently scheduled for release in summer 2017.[4]
The game will be released alongside three new Splatoon amiibo, based on Inkling designs featured in this game.[1]
Blurb
Nintendo website
Ink-splatting action is back and fresher than ever

Get hyped for the sequel to the hit game about splatting ink and claiming turf, as the squid-like Inklings return in a colorful and chaotic 4 vs. 4 action shooter. For the first time, take Turf War battles on-the-go via local multiplayer in portable play styles. You can also compete in frenetic online matches like before. Two years have passed since the release of Splatoon, and two years have also passed in the game world, leading to an evolution in fashion trends and new styles of weapons and gear. Staying fresh never looked so good.

Features:

New weapons – New dual-wielding Splat Dualies join the action, complete with a new Dodge Roll move. Mainstays like the Splat Roller and Splat Charger have also been remixed to include new gameplay mechanics and brand-new special weapons.
Local and Online Multiplayer – In a first for the series, compete in local multiplayer Turf War battles, whether in TV mode or on-the-go in handheld or tabletop modes. Online battles also make a return.
New ways to play – Play using the Joy-Con controllers or the Nintendo Switch Pro Controller, both of which allow for gyro controls for better aiming and control.
New Trends – Two years have passed since the release of Splatoon in real life, and two years have also passed in the game world. Some familiar characters return under different circumstances, and new characters are introduced as well.
Fresh Updates - Similar to Splatoon for Wii U, updates will roll out post-launch, adding new content.
Smart Device Support – An upcoming smart-phone application for the Nintendo Switch system will enhance matchmaking and allow for voice chat options.
Turf War – Iconic 4 vs. 4 Turf War battles return. The goal is to splat ink on as much territory as possible, while strategically submerging yourself in your team's colors and blasting your enemies.
Story
Splatoon 2 is set two years after the original.[5]
Gameplay
Splatoon 2 features a set of brand new stages, weapons, and special weapons[4], while returning stages and weapons have been given adjustments. Matches take place on one of two maps that rotate every two hours.[6] During multiplayer matches, pressing the X button displays the map, which assigns each of the other three players and the home base to one of the buttons on the D-pad, allowing the player to Super Jump to that location by pressing A.[4] Splatoon 2 also supports motion aiming like in the first game, regardless of the controller being used.[4]
The game features a new multiplayer mode titled Salmon Run, in which a team of four players must last as long as possible against endless waves of enemies.[1]
Like the original, Splatoon 2 features amiibo compatibility. Scanning the amiibo allows players to save their weapons, clothing, and gameplay settings to the amiibo; the player can also take pictures with their amiibo, and the amiibo may occasionally give the player clothing items. The amiibo compatible with the previous installment can also be used in this game.[1]
Technical details
Media

Nintendo Switch Game Card
Digital download

Supported features

Online play, amiibo[1]

Input / compatible controllers
Demo
Like the original Splatoon, Nintendo is hosting a "Splatoon 2 Global Testfire" demo event before the game's release. The demo application was released on March 14, 2017, and requires 410 MB of space to download.
The event will be live between March 24-26, during which players will be able to play against each other in six one hour intervals on each day. Players will be able to choose between one of four weapons to use[7]: the returning Splattershot, Splat Roller, and Splat Charger, each with balance tweaks and new special weapons; and the new Splat Dualies. Players can play on two of the game's new stages: Musselforge Fitness and The Reef.
External links


Splatoon 2 on other NIWA Wikis:
References
↑ 1.0 1.1 1.2 1.3 1.4 Nintendo Direct 4.12.2017. Nintendo (YouTube; April 12, 2017). Retrieved April 12, 2017.
↑ Nintendo Direct 2017.4.13 プレゼンテーション映像. Nintendo 公式チャンネル (YouTube; April 12, 2017). Retrieved April 12, 2017.
↑ Nintendo Direct - 12.04.2017. Nintendo UK (YouTube; April 12, 2017). Retrieved April 12, 2017.
↑ 4.0 4.1 4.2 4.3 Nintendo Switch Presentation 2017. Nintendo (YouTube; January 12, 2017). Retrieved January 13, 2017.
↑ Splatoon 2 takes place 2 years after the original. GoNintendo (January 13, 2017). Retrieved January 13, 2017.
↑ Splatoon 2 - map rotation time cut to 2 hours. GoNintendo (May 7, 2017). Retrieved May 7, 2017.
↑ Nintendo Switch owners get free preview of Splatoon 2 during Global Testfire. Nintendo (February 12, 2017). Retrieved March 8, 2017.