Nintendo GameCube
From NintendoWiki, your source on Nintendo Information. By Fans, For Fans.
Nintendo GameCube
ニンテンドーゲームキューブ Nintendō Gēmu Kyūbu
| | |
| --- | --- |
| No. of games made | 640 (as of August 14, 2007) |
| No. of games available at launch | 12 |
| Best Selling game | Super Smash Bros. Melee (7.09 million) |
| Last game | Madden NFL 08 (August 14, 2007) |
| | |
| --- | --- |
| Media | Nintendo GameCube optical disc |
| Storage Capacity | Nintendo GameCube Memory Card (16 MB max. capacity) |
| CPU | IBM PowerPC "Gekko", 486 MHz |
Compatibility & Connectivity
Launch Date



NA - November 18, 2001
JP - September 14, 2001
EU - May 3, 2002
AUS - May 17, 2002

Lifetime
6 years
Discontinue Date
2007
Units Sold



Worldwide - 21.74 million
NA - 12.94 million
JP - 4.04 million
EU/AUS - 4.77 million
The Nintendo GameCube (Japanese: ニンテンドーゲームキューブ), officially abbreviated GCN or NGC is Nintendo's sixth-generation home console. Codenamed "Dolphin" during development, the console was released on September 14, 2001 in Japan, November 18, 2001 in North America, May 3, 2002 in Europe, and May 17, 2002 in Australia. The system features a more compact design with four controller ports, a controller with an ergonomic design, small but large-capacity discs, connectivity with the Game Boy Advance and a form of online play. The console's surface has three buttons on top: Open, Reset, and Power. In 2006, it was succeeded by Wii, which also features ports for most GameCube hardware as well as compatibility for its software. The system's lifespan ended in 2007.
The Nintendo GameCube was released in four colors: indigo, black, orange (exclusively in Japan), and platinum (limited edition).
A special version of the GameCube was released by Panasonic with the ability to play DVDs and audio CDs as well as GameCube games. It was named the Panasonic Q and was only available in Japan.
Features
Like the Nintendo 64, the GameCube features four controller ports, allowing for up to four players to play at one time. As the system plays discs rather than cartridges, separate Memory Card had to be purchased to save game data. Only two slots were available for memory card usage. GameCube discs are smaller than the industry standard of 5 inches, the smaller discs measured 3.5 inches in diameter.
System specs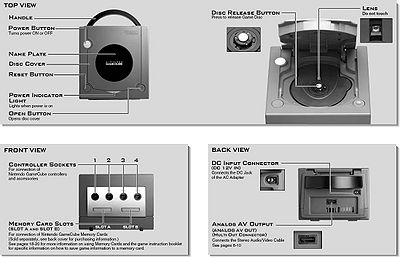 MPU ("Microprocessor Unit")*: Custom IBM Power PC "Gekko"
Manufacturing process: 0.18 micron IBM copper wire technology
Clock frequency: 485 MHz
CPU capacity: 1125 Dmips (Dhrystone 2.1)
Internal data precision: 32-bit Integer & 64-bit floating-point
External bus: 1.3GB/second peak bandwidth (32-bit address space, 64-bit data bus 162 MHz clock)
Internal cache L1: instruction 32KB, data 32KB (8 way) L2: 256KB (2 way)
System LSI: Custom ATI/Nintendo "Flipper"
Embedded frame buffer: Approx. 2MB sustainable latency : 6.2ns (1T-SRAM)
Embedded texture cache: Approx. 1MB sustainable latency : 6.2ns (1T-SRAM)
Texture read bandwidth: 10.4GB/second (Peak)
Main memory bandwidth: 2.6GB/second (Peak)
Pixel depth: 24-bit color, 24-bit Z buffer
Image processing functions: Fog, subpixel anti-aliasing, 8 hardware lights, alpha blending, virtual texture design, multi-texturing, bump mapping, environment mapping, MIP mapping, bi-linear filtering, trilinear filtering, anisotropic filtering, real-time hardware texture decompression (S3TC), real-time decompression of display list, HW 3-line deflickering filter.
Games
Controllers and accessories
Nintendo GameCube Controller
The Nintendo GameCube Controller is the primary controller for the console, one being included with each system and in the same color as the system. While the controller makes use of all the standard buttons of the Nintendo 64 and SNES, it also features a second control stick, as well as a more ergonomic design.
Wavebird Wireless Controller
The Wavebird Wireless Controller is a wireless alternative to the standard Nintendo GameCube controller, connecting to the console via a wireless radio receiver that plugs into a controller port. While it features the same design and buttons as a standard Nintendo GameCube Controller, it does not feature the built-in rumble feedback.
Nintendo GameCube Action Pad
The Nintendo GameCube Action Pad is a dance pad peripheral released by Konami exclusively alongside Dance Dance Revolution: Mario Mix. The Action Pad has many of the same inputs as a standard GameCube controller, but lacks L and R buttons. Two versions of the pad were released.
DK Bongos
The DK Bongos are a controller shaped like a pair of bongos. The controller features four buttons: the two drums, a "Start/Select" button, and the microphone. As the name implies, the bongos are primarily used for Donkey Kong games, namely the Donkey Konga series and Donkey Kong Jungle Beat.
Game Boy Player
The Game Boy Player is a system add-on that allows the Nintendo GameCube to play Game Boy, Game Boy Color, and Game Boy Advance games. The console works by plugging it into one of the hi-speed ports on the bottom of the system, and uses most of the internal hardware of the Game Boy Advance, thus also making it compatible with most of the Game Boy line's accessories.
Because of the changes in design for the Panasonic Q, a special Game Boy Player was released exclusively for use with the system.
Nintendo GameCube Broadband / Modem Adapters
The Nintendo GameCube Modem Adapter and Nintendo GameCube Broadband Adapter are two add-on adapters for the Nintendo GameCube. Plugging into Serial Port 1 on the bottom of the system, the adapters feature an ethernet cable port and allow for the system to connect to the internet; the Broadband Adapter allows for broadband connectivity while the Modem Adapter allows for 56k connectivity.
ASCII Keyboard Controller
The ASCII Keyboard Controller is a keyboard controller released only in Japan. While the controller keeps the same basic design and the same buttons as a standard controller, the ASCII controller is stretched to include a full keyboard, with the buttons on both ends of the controller. The controller requires two controller ports to be used.
Nintendo GameCube - Game Boy Advance Link Cable
The Nintendo GameCube - Game Boy Advance Link Cable is a special link cable that allows for a Game Boy Advance system to be used with compatible Nintendo GameCube software. The Game Boy Advance can either be used as a second screen or a controller, or to unlock or use features in certain games.
Nintendo GameCube Microphone
The Nintendo GameCube Microphone is a microphone accessories that allows players to use voice commands in compatible games. The microphone plugs into one of the system's memory card ports. The game Odama also features a clip which attaches the microphone to the controller.
Panasonic Q
The Panasonic Q is the only revision of the Nintendo GameCube hardware. As part of the deal between Nintendo and Panasonic for the latter to develop the Nintendo GameCube's optical disc drive, they were also given permission to design a version of the system that can play DVDs in addition to the standard Nintendo GameCube optical discs. The system was released exclusively in Japan in December 2001.
Reception
Compared to Nintendo's other home consoles, the GameCube sold rather poorly. In total, less than 22 million units were sold, mostly in America. Although this was more than the ill-fated Dreamcast, Microsoft's XBox and especially Sony's PlayStation 2 outsold it.[1]
The GameCube was hurt by several factors. One of them was its image as a "kiddy" console, in a market that was being increasingly dominated by older audiences and games with "Teen" and "Mature" ratings, such as Grand Theft Auto. Unlike its competitors, the GameCube lacked the ability to play DVDs and online play. Although it managed to sell ahead of the Xbox from 2001 to 2003, a lack of new titles caused the system to climax long before its competitors.
Despite the subpar sales, the GameCube and many of its titles have received critical acclaim. IGN rated the GameCube the 16th best console of all time, citing its impressive technology and well great titles. It had a total of 41 titles to sell over a million units, including three to exceed 5 million sales.[2] The best selling game on the system, Super Smash Bros. Melee, is the best selling fighting game of all time save for its sequel. Some GameCube games, such as Metroid Prime, Resident Evil 4, and The Legend of Zelda: Twilight Princess, are considered to be some of the greatest games ever made.
External links
References