Wii U
From NintendoWiki, your source on Nintendo Information. By Fans, For Fans.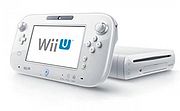 The Wii U (pronounced "we you") is a recently released eighth generation video game console created by Nintendo, and it is the successor to the Wii. It is Nintendo's sixth major home console, and the system was released in 2012. It was released in North America on November 18th, in Europe on November 30th, and in Japan on December 6th. It was unveiled during Nintendo's press conference at the Electronic Entertainment Expo 2011 on June 7, 2011. The console is the only home console in the eighth generation, despite the same generation having two handheld consoles in Nintendo 3DS and Sony's PS Vita. The Wii U is the first Nintendo console to produce 1080p high-definition graphics.
The Wii U's main innovation lies within its controller, the Wii U GamePad. It is also compatible with the exclusive Wii U Pro Controller, and previous Nintendo controllers, the Wii Remote, Nunchuk, Classic Controller and Wii Balance Board.
Gallery
Zelda HD, a tech demo, is being played.