Site Notice
Please check our Coverage page to see what deserves an article and what doesn't.
Please join in a discussion about our coverage.
Be sure to join the discussions going on the NIWA Wikis Discord Server.
Please no leaked content, however information from interviews and information data-mined from officially released products is allowed.
Nintendo Girls Club
Jump to navigation
Jump to search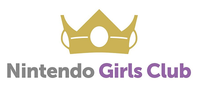 Nintendo Girls Club is an official Nintendo marketing initiative and YouTube channel promoting Nintendo products for girls and women. The channel features many videos about Nintendo games with traditionally feminine elements, such as lifestyle (Animal Crossing series), animals (Pokémon series) as well as games aimed primarily for girls such as the Style Boutique series.
Reception
Reception is mixed. On the Nintendo Girls Club introduction video, the reception in terms of likes and dislikes is primarily negative with 520 likes and 1300 dislikes as of February 17, 2014.[1] Other responses include critique regarding sexism.[2]

References

Presidents
Managers, etc.
Internal
Subsidiaries

NNSD: Yusuke Beppu
Monolith Soft: Hirohide Sugiura, Tetsuya Takahashi
1-Up Studio: Gen Kadoi
ND Cube: Hidetoshi Endo
Retro: Michael Kelbaugh
NERD: Alexandre Delattre