Site Notice
Please check our Coverage page to see what deserves an article and what doesn't.
Please no leaked content less than one year old, or videos of leaks.
Tank Troopers
Jump to navigation
Jump to search
Tank Troopers
タンク トゥルーパーズ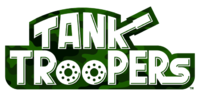 English game logo
| | |
| --- | --- |
| N. America: | February 16, 2017[2] |
| Japan: | December 21, 2016[3] |
| Europe: | February 16, 2017[4] |
| Australia: | February 17, 2017[5] |
Tank Troopers is a tank-themed third-person shooter game, developed by Nintendo and Vitei for Nintendo 3DS. The game was released digitally on the Nintendo eShop in December 2016 in Japan, and in February 2017 in other regions.
Gameplay
[
edit
]
Players control one of several troopers inside of a tank in six-player matches. Each of the different troopers has their own unique special abilities which can be used during combat.
In addition to a single-player mode, the game also features multiplayer through both local and Download Play.[6]
Development
[
edit
]
Tank Troopers was initially revealed in the Nintendo Direct on September 1, 2016, and slated for release during the winter.[6]
According to Vitei's Giles Goddard, the concept for the game originated with Imamura.[7] In a Nintendo Dream interview, it was stated that the idea was thought of while working on updates for Steel Diver: Sub Wars.[1] While initially designed as a more serious combat game in the same vein as the Steel Diver titles, Imamura asked that the game's sound and design be made more "Nintendo-esque" and allow players to easily pick up and play, to distinguish the game from other tank battle games.[1] The game's rendering engine was designed so that it could easily be scaled across multiple platforms.[8]
The game's music and sounds were handled by Ryo Nagamatsu of Nintendo. When composing the music, the whistle was chosen as the main instrument, with a quiet orchestra to support it, so that it would not overpower the sound effects and voice clips. The game's characters were voiced by Nintendo employees and their families, with the intention of having each one "be unique and leave a lasting impression." The game's characters were designed by Yuki Kaneko.[1]
Tank Troopers was planned to have online play, but these features were removed by Nintendo; Goddard has speculated that the online functionality was most likely removed due to time constraints (despite development being ahead of schedule).[7] The developers would also work on a Nintendo Switch version, but it was rejected by Nintendo.[8]
Technical details
[
edit
]
| | |
| --- | --- |
| Media | Digital download (Nintendo 3DS) |
| Download size | 1,242 blocks |
| Supported features | Local Play / Download Play (1-6 players) |
| Input / compatible controllers | Nintendo 3DS |
External links
[
edit
]
References
[
edit
]
↑ 1.0 1.1 1.2 1.3 Tank Troopers – developed by Vitei, how the game came to be, voice acting from Nintendo staff. Nintendo Everything (December 31, 2016. Retrieved December 31, 2016.
↑ NoA PR - New Games Starring Mario, Yoshi and Pikmin Coming to Nintendo 3DS in 2017. GoNintendo (January 24, 2017). Retrieved January 24, 2017.
↑ Upcoming Japanese eShop Releases (12/21/16). Nintendo Everything (December 13, 2016). Retrieved December 14, 2016.
↑ Attention! Prepare to roll out at our Tank Troopers website. Nintendo UK (February 1, 2017). Retrieved February 1, 2017.
↑ "Roll into wacky tank warfare for up to six players in Tank Troopers, out now for #3DS #eShop!" Nintendo AU NZ on Twitter (February 17, 2017). Retrieved November 6, 2021.
↑ 6.0 6.1 Nintendo 3DS Direct 9.1.2016. Nintendo (YouTube; September 1, 2016). Retrieved September 1, 2016.
↑ 7.0 7.1 Straight from the Source: Giles Goddard (Former Nintendo Employee, Vitei Games CEO). Source Gaming (July 2, 2017). Retrieved July 2, 2017.
↑ 8.0 8.1 Nintendo passed on a Switch version of Tank Troopers. Nintendo Everything (May 30, 2021). Retrieved November 7, 2021.