Site Notice
Please check our Coverage page to see what deserves an article and what doesn't.
Please no leaked content less than one year old, or videos of leaks.
Tomato Adventure
Jump to navigation
Jump to search
Tomato Adventure
トマトアドベンチャー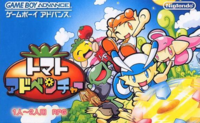 Boxart of Tomato Adventure
| | |
| --- | --- |
| N. America: | N/A |
| Japan: | January 25, 2002 |
| Europe: | N/A |
| Australia: | N/A |
| S. Korea: | N/A |
| China: | Cancelled |
Tomato Adventure is a role-playing game developed by AlphaDream and co-developed by Graphic Research. The game can be considered the spiritual predecessor to Mario & Luigi: Superstar Saga because it is heavily modeled on this game and two unused tunes based on the Tomato Adventure title theme are present in Mario & Luigi: Superstar Saga. [2][3]
Development
[
edit
]
The game used to be in development for the Game Boy Color as Gimmick Land. An almost finalized but still seemingly incomplete prototype from this era was leaked during the 2018-2020 Nintendo, Microsoft data breaches called Gimmick Land: Tomato Atama no Himitsu (Japanese: ギミックランド トマト頭のひみつ), meaning Gimmick Land: Tomato Head's Secret. The prototype GBC game was meant to be published by AlphaDream instead of Nintendo, unlike the GBA version where it got published by Nintendo. This title is CGB, so will not work on original non-Game Boy Colors.
For further analysis of this prototype, see The Cutting Room Floor: Proto:Tomato Adventure/Gimmick Land.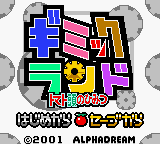 Gameplay
[
edit
]
On their quest to defeat the six Super Kids and gather the six toy parts to enter Gimmick Palace, confront King Abīra and rescue Pasaran, DeMille and three other characters Alesa, Sofubī and Rereku who join him later in his quest, battle enemies with toy-like weapons known as Gimmicks. When using a Gimmick, the player has to complete a small mini-game, such as one that requires timing.
This was done to encourage the active participation of players unlike traditional attack input from role-playing games that may require the player to simply select an attack.
The player character can select a total of 4 Gimmicks to use in battle (more can be hold to choose from on the Gimmick screen outside of battle). Gimmicks have a limited number of uses, but this can be increased through the use of items and running out of uses for all Gimmicks (after which the number of uses for all Gimmicks replenish automatically).
Like traditional RPGs, the player will obtain items that can help them in battle. Items such as gear and healing items can be purchased from shops with the game's in-game currency, Topar, that becomes available from beating monsters.
When the player makes it to Oisu Town, after beating the third Super Kid, the player can decide to play a card game called Gimika that can either be played with characters in the game or other Game Boy Advance systems.
Tomato Adventure takes place in the Ketchup Kingdom; a kingdom inhabited by children lead by the tomato loving King Abīra. The adventure stars DeMille, a hare-like character wearing blue and white clothes. DeMille was banished to a village by a cliff named Koborē Village (Japanese: コボレーむら) because he is an outcast who dislikes tomatoes.
One day, on Tomato Day (Japanese: トマトきねん日), a national holiday, DeMille was watching television and an important announcement was made. It was revealed that a machine was finished called the 'Super-Cara Cooker' and according to Abīra, the 'Super-Cara Cooker' would allegedly would let the children of the Ketchup Kingdom stay kids forever.
Later in his adventure, DeMille was let off from Koborē Village because it is Tomato Day, though not without a battle with the Surveillance Kid. While exploring the Toy Ruins (Japanese: オモチャのいせき) with his girlfriend Pasaran, Pasaran is kidnapped by two purple creatures with zippers on them called Brikki and Grikki and taken into an airship, so Demiru sets off to rescue her.
Pasaran is taken to the Gimmick Palace and King Abīra plans to charge the Super-Cara Cooker with her energy. It is soon revealed that in actuality, the Super-Cara Cooker is a machine that will turn everyone into toys.
In his quest, DeMille must battle bosses called the six Super Kids to prevent the Super-Cara Cooker being activated and collect six different toy-parts that will let him enter the Gimmick Palace (Japanese: ギミックパレス) and battle King Abīra.
References from other games
[
edit
]
Reception
[
edit
]
This article is incomplete.
You can help by filling in the missing information.
Clyde Mandelin (Tomato), well known for his fan translation of Mother 3 attempted to translate this game from Japanese into English but quit the project, releasing his tools for anyone who wants to translate it.
Eventually, the project was finished on July 26, 2021 by DeMille (translation), CrazyMLC (graphics), and an anonymous contributor (hacking).[4]
External links
[
edit
]
References
[
edit
]