Site Notice
Please check our Coverage page to see what deserves an article and what doesn't.
Please no leaked content less than one year old, or videos of leaks.
Tube Slider: The Championship of Future Formula
Jump to navigation
Jump to search
The subject of this article has been called into question as it may be outside the Wiki's scope, in accordance with the coverage policy. Please discuss this on the article's

talk page

.

This article has been marked since May 1, 2019
Tube Slider: The Championship of Future Formula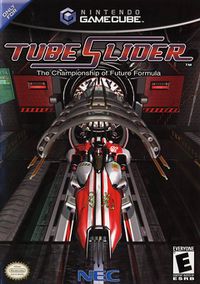 Cover artwork of Tube Slider: The Championship of Future Formula
| | |
| --- | --- |
| N. America: | April 17, 2003 |
Tube Slider: The Championship of Future Formula is a futuristic racing game released for the Nintendo GameCube exclusively in North America in 2003. The game's main feature, as indicated in its title, is that all racetracks are set in oversized transparent tubes. Though developed by Nintendo subsidiary Nd Cube, the game was published by NEC, and specifically was the first title published by subsidiary NEC Interchannel.[1]
Tube Slider was the last game developed by the original incarnation of Nd Cube. Following its release, most of Nd Cube's staff would leave the company and Nd Cube would not release another game until 2010, after an influx of former Hudson Soft employees.
LIMITLESS VELOCITY
Get your adrenaline fix as you race at incredible speeds in hover vehicles that slide through gravity-defying racecources at over thousand miles per hour. The future of championship formula racing is faster, sleeker, and more dangerous - you may be able to avoid hitting the walls, but can you defy your opponent's power-siphoning Lock-On beams? You may be able to finish a race... but can you win it?
Select from a large variety of futuristic racing vehicles, each with its own speed and handling characteristics!
Choose Competition Mode to race against aggressive A.I. racers, or up to four players can compete to win the ultimate future formula title!
Race on fantastic futuristic courses that are full of challenging twists and turns.
Training courses and an in-game tutorial help you master the maneuvers required to survive the speed-intensive challenges.
Speed enhancers such as Turbos and Boosters help you break all racing performance records!
Can you handle the power?
Gameplay
[
edit
]
Tube Slider follows a conventional racing game structure. The player must first select from among eight vehicles with differentiated stats and handling models and participate in various racing championships. All of Tube Slider's tracks are inside transparent tubes.
Before each race, the player can select if they want their vehicle to be equipped with a "turbo" or a "booster". The turbo provides a powerful one-time burst of speed while the booster is a less powerful but more flexible speed enhancer that can be feathered. Boost energy automatically regenerates and can also be collected by siphoning other competitor's reserves, or by collecting Velocity Pick-ups scattered around the tracks. Blue items add to the player's energy reserves, yellow items provides an immediate burst of speed like the turbo and rare red items accelerate the vehicle to a far greater degree.
Unlike most futuristic racing games, Tube Slider does not feature combat, but instead features a "Lock-On" system: by moving the vehicle directly behind an opponent's craft, competitors can siphon away boost energy and add it to their own reserve. However, if the attacked craft boosts before the lock-on attempt is completed, they will steal energy from the attacking craft.
The main gameplay mode of Tube Slider is Grand Prix mode, which task the player to compete through three racing tournaments alone or split-screen with one other player. Completing the final regular tournament unlocks Maximum mode, which features the same tournaments played at greater speed and difficulty, and the Tryal Road, a one-time race against a powerful boss vehicle named Spyder. Completing the Tryal Road in Normal mode unlocks an alternate model for the selected vehicle while completing it in Maximum mode unlocks Spyder itself. Other modes include Time Attack, Free Run, Course Pratice (which has the player collect orbs in some of the regular tracks and get graded on their speed and number of orbs collected), and Tutorial, a collection of videos explaining various aspects of the game.
Development
[
edit
]
Tube Slider was initially announced at the end of January 2003, and slated for release in February.[1][2] However, the game's release would later be delayed to April. The game's vehicle and environment designs were done by Japanese animation studio Studio 4°C.[3]
Reception
[
edit
]
Aggregate scores
Metacritic
62
GameRankings
66.65%
Reviews
IGN
6.1/10
Nintendo Power
5.8/10
GameSpot
5.6/10
Reviews for the game were generally middling upon release, with many critics comparing the game unfavorably to other similar racing games, most notably the F-Zero series. IGN's Matt Casamassina gave the game a 6.1 out of 10, calling the gameplay "shallow", the increasing difficulty "unbalanced", and overall calling the game "[...]an above average racer. But it's not in the same league as more ambitions entries like XGRA and F-Zero." Ryan Davis of GameSpot rated Tube Slider a 5.6 out of 10, calling the game "a generally uninteresting futuristic racer that doesn't do anything that hasn't already been done, and done better, by previous futuristic racers."

Technical details
[
edit
]
| | |
| --- | --- |
| Media | Nintendo GameCube Game Disc |
| Save data size | 22 blocks |
| Input / compatible controllers | |
External links
[
edit
]
References
[
edit
]