Site Notice
Please check our Coverage page to see what deserves an article and what doesn't.
Please no leaked content less than one year old, or videos of leaks.
User:Torchickens/Power Glove
Jump to navigation
Jump to search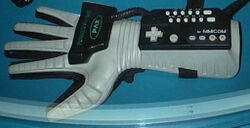 The Power Glove is a Nintendo Entertainment System accessory, released in 1989. Though an officially licensed Nintendo product, Mattel were the manufacturers in the United States and PAX in Japan.
This device connects to the NES serial port and is used as an alternative control method to the D-pad. The glove includes buttons and allows the player to control the game using hand motions. It is based on patented technology by VPL Dataglove.
Reception
[
edit
]
Though this glove sold over one million copies, reception was poor because of bad controls.[1]
The Power Glove is featured in the 1989 American film The Wizard. It is also the subject of an Internet meme in which the antagonist Lucas exclaims "I Love The Power Glove. It's So Bad".
External links
[
edit
]
{{Nintendo Entertainment System}} {{Ref2}} {{Stub}} [[Category:Accessories]]