Site Notice
Please check our Coverage page to see what deserves an article and what doesn't.
Please join in a discussion about our coverage.
Be sure to join the discussions going on the NIWA Wikis Discord Server.
Please no leaked content, however information from interviews and information data-mined from officially released products is allowed.
Azusa Tajima
Jump to navigation
Jump to search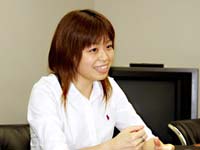 Azusa Tajima is a former Nintendo of Japan employee, and circa 2007+ a Nintendo of America employee. She has worked on various Nintendo games as director, assistant director, producer, and in management, coordination/assistance.
Gameography
Sources: Starfy Wiki (itself references a now closed Kyoto Report fan-site post),
On other Wikis
Trivia
Tajima likes to consider herself as both a hardcore and casual gamer, liking both 'hardcore' games and more casual titles such as the Brain Age series.[1]
References