Site Notice
Please check our Coverage page to see what deserves an article and what doesn't.
Please join in a discussion about our coverage.
Be sure to join the discussions going on the NIWA Wikis Discord Server.
Please no leaked content, however information from interviews and information data-mined from officially released products is allowed.
Nintendo Wi-Fi USB Connector
Jump to navigation
Jump to search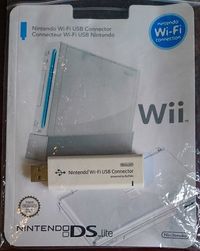 The Nintendo Wi-Fi USB Connector (Japanese: ニンテンドーWi-Fi USBコネクタ) was released on November 23, 2005 in Japan. It was "powered by Buffalo Technology" (a business that would become Melco Holdings, Inc.).
This device would connect to a computer that had broadband Internet but no active Wi-Fi support, so that the Internet connection could be used for Nintendo Wi-Fi Connection.
A similar device was also released, known as the Nintendo Wi-Fi Network Adapter.
Nintendo online services
 • Famicom Network System (Famicom, 1988)
 • Satellaview (Super Famicom, 1995)
 • Randnet (Nintendo 64DD 1999)
 • Mobile System GB (Game Boy Color/Game Boy Advance w/Mobile GB Adapter and mobile phone, 2001)  • Online Nintendo GameCube gameplay (Nintendo GameCube, w/GameCube Broadband Adapter/Modem Adapter, 2002)
 • Nintendo Wi-Fi Connection (Wii, Nintendo DS Lite, Nintendo DSi, Nintendo DSi XL optionally w/Nintendo Wi-Fi USB Connector, Nintendo DS & DSi Browser, 2006)
 • Nintendo Network (Nintendo 3DS, Wii U, Web, 2012/3)
 • Nintendo Switch Online (2018; Nintendo Switch)
 • Websites (Nintendo web browser games)