Site Notice
Please check our Coverage page to see what deserves an article and what doesn't.
Be sure to join the discussions going on our board.
Mobile Game Boy Adapter
Jump to navigation
Jump to search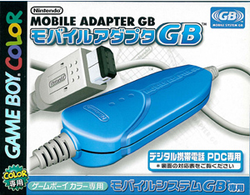 The Mobile Game Boy Adapter, known in Japan as the Mobile Adapter GB (Japanese: モバイルアダプタGB) describes a cable used to connect to mobile phones for the Mobile System GB service, with a Game Boy Color or Game Boy Advance. Some of its most popular uses were for the Japanese version of Pokémon Crystal Version, Mario Kart: Super Circuit and Mobile Golf.
The Mobile Game Boy Adapter was packaged with an application known as Mobile Trainer, which was used to configure the system and included the Mobile Home Page, a mailing system, and its special web browser. There is also a bundle which includes the adapter and Mobile Golf.
References
[
edit
]
| | |
| --- | --- |
| | This article is a stub. You can help NintendoWiki by expanding it. |
Nintendo online services
 • Famicom Network System (Famicom, 1988)
 • Satellaview (Super Famicom, 1995)
 • Randnet (Nintendo 64DD 1999)
 • Mobile System GB (Game Boy Color/Game Boy Advance w/Mobile GB Adapter and mobile phone, 2001)
 • Online Nintendo GameCube gameplay (Nintendo GameCube, w/GameCube Broadband Adapter/Modem Adapter, 2002)
 • Nintendo Wi-Fi Connection (Wii, Nintendo DS Lite, Nintendo DSi, Nintendo DSi XL optionally w/Nintendo Wi-Fi USB Connector, Nintendo DS & DSi Browser, 2006)
 • Nintendo Network (Nintendo 3DS, Wii U, Web, 2012/3)
 • Nintendo Switch Online (2018; Nintendo Switch)
 • Websites (Nintendo web browser games)