Site Notice
We have a limited coverage policy. Please check our coverage page to see which articles are allowed.
Please no leaked content less than one year old, or videos of leaks.
Content copied verbatim from other websites or wikis will be removed.
Banjo-Tooie
Jump to navigation
Jump to search
Banjo-Tooie
バンジョーとカズーイの大冒険 2
Banjo to Kazooie no Daibouken 2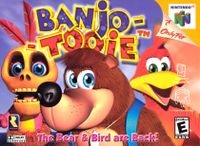 The boxart for Banjo-Tooie
| | |
| --- | --- |
| N. America: | November 20, 2000 |
| Japan: | November 27, 2000 |
| Europe: | April 12, 2001 |
| Australia: | 2000 |
| S. Korea: | N/A |
Banjo-Tooie is a video game released for the Nintendo 64 in 2000. It was developed by Rare and published by Nintendo. It is the sequel to the 1998 video game Banjo-Kazooie. The Xbox Live Arcade version of this game was released on April 29, 2009, which featured graphical improvements and a higher screen resolution.
Blurb
Grunty returns—and that's bad news for Banjo and Kazooie! In this all-new adventure, combine everything you learned in the award-winning prequel, Banjo-Kazooie, with dozens of brand new moves and abilities. Explore eight original worlds—like a monstrous factory and a dilapidated amusement park. Solve incredible puzzles that link those worlds together—sometimes you'll have to complete tasks in several worlds to solve a single puzzle!
Story
Two years after Banjo and Kazooie defeated the witch Gruntilda and buried her under a boulder, Gruntilda's sisters Mingella and Blobbelda arrive in a large digging machine called the Hag 1. They use the machine to destroy the boulder and free Gruntilda, who is now a skeletal corpse. While Banjo and Kazooie are playing poker with their friends Mumbo Jumbo and Bottles, Gruntilda destroys Banjo's house and flees with her sisters. Banjo, Kazooie and Mumbo manage to escape before the house is destroyed, but Bottles is caught in the magical blast and killed. The three surviving friends decide to defeat Gruntilda once again and revive Bottles.
Gameplay
In concept, the gameplay in Banjo-Tooie is similar to its predecessor, Banjo-Kazooie. There are nine large levels in Banjo-Tooie, which are physically connected at multiple points throughout the game and can also be accessed through the Isle o'Hags hub world. Each of the levels contain Jiggies (jigsaw pieces) required to advance to the next level. Whenever the player has collected the necessary amount of Jiggies, they must go to Jiggywiggy's temple and play a timed puzzle-completion challenge. After successfully finishing the challenge, Jiggywiggy grants access to the next level. Each level requires more Jiggies to collect than the last. Musical notes in Banjo-Tooie are used to learn new abilities from Jamjars, the brother of Bottles the Mole. Mumbo Jumbo also returns as a fully playable character that can venture out into each world and use specific magic spells to help Banjo and Kazooie proceed or find a Jiggy. A new character named Humba Wumba, a medicine woman, replaces Mumbo Jumbo's previous role of transforming the duo into different forms.
External links
References
| | |
| --- | --- |
| | This article is a stub. You can help NintendoWiki by expanding it. |