Site Notice
Please check our Coverage page to see what deserves an article and what doesn't.
Please no leaked content less than one year old, or videos of leaks.
Banjo-Kazooie
Jump to navigation
Jump to search
Banjo-Kazooie
バンジョーとカズーイの大冒険
Banjo to Kazooie no Daibouken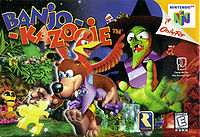 Boxart of Banjo-Kazooie
| | |
| --- | --- |
| N. America: | June 30, 1998 |
| Japan: | December 6, 1998 |
| Europe: | July 17, 1998 |
| Australia: | July 24, 1998 |
Banjo-Kazooie is a 3D platforming game for the Nintendo 64 released in 1998. It was originally developed by Rare and published by Nintendo. The game was later ported to the Xbox Live Arcade for Xbox 360 on December 3, 2008, several years after Rare had been purchased by Microsoft. The game is the first game in the Banjo-Kazooie series, being given a sequel in 2000 titled Banjo-Tooie.
The game was originally being developed under the title "Project Dream" after Rare had finished Donkey Kong Country, and was to be released for the Super Nintendo Entertainment System; the game would have starred a young boy named Edison trying to stop a group of pirates led by Captain Blackeye. The game was later pushed back to the Nintendo 64, though due to concerns about the direction of the project it was finally scrapped and the character of Banjo, who was a secondary character in Project Dream, was instead made the main character.
Trouble brews when Gruntilda the witch captures the unbearably beautiful cub, Tooty. But before the grisly hag can steal the bear's good looks, big brother Banjo and his fine-feathered friend, Kazooie, join forces to stop her. Combining their 24 moves and special powers, Banjo and Kazooie will fend off armies of beasts. Bear and bird must hunt down the 100 puzzle pieces and 900 musical notes that will ultimately lead them to Gruntilda. However, miles of swamp, desert and snow and one bear of an adventure stand in their way.
The game opens on Spiral Mountain, home of Banjo, Kazooie and the witch Gruntilda. When Gruntilda learns that the most beautiful girl in the land is Tooty, Banjo's sister, she becomes enraged and kidnaps Tooty, intending to take her beauty and make Tooty ugly as a result. Banjo and Kazooie enter Gruntilda's mountain lair after Bottles the Mole informs them that Gruntilda had taken Tooty there, and must travel through the lair and its several worlds to reach Gruntilda at the top and defeat her.
Gameplay
[
edit
]
| | |
| --- | --- |
| | This section is a stub. You can help NintendoWiki by expanding it. |
Banjo-Kazooie is a 3D action-platformer in a similar vein to Super Mario 64, in that players are traveling up Gruntilda's Lair, collecting puzzle pieces called "Jiggies" and Music Notes to progress further into the lair and eventually reach Gruntilda herself at the top.
Technical details
[
edit
]
| | |
| --- | --- |
| Media | 128-megabit Nintendo 64 Game Pak |
| Supported features | |
| Input / compatible controllers | |
External links
[
edit
]