Site Notice
We have a limited coverage policy. Please check our coverage page to see which articles are allowed.
Please no leaked content less than one year old, or videos of leaks.
Content copied verbatim from other websites or wikis will be removed.
Bubsy in Claws Encounters of the Furred Kind
Jump to navigation
Jump to search
Bubsy in Claws Encounters of the Furred Kind
やまねこBubsyの大冒険
Yamaneko Bubsy no Daibōken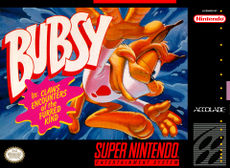 North American SNES box art
| | |
| --- | --- |
| N. America: | May 1993 |
| Japan: | June 17, 1994 |
| Europe: | October 28, 1993 |
Bubsy in Claws Encounters of the Furred Kind is a 2D platforming game developed and released by Accolade. The game was released for both SNES and Sega Genesis in 1993 in North America and Europe, and later in Japan in 1994.
Claws Encounters of the Furred Kind would go on to be the first title in Accolade's Bubsy series, spanning five games total. This was the only title in the series to see a Japanese release. The game would later receive a release for PC as Super Bubsy, and in 2015 the SNES version would be re-released digitally alongside Bubsy II as Bubsy Two-Fur.
Blurb
"No way can I cram all my cool features on the back of this wimpy box!"
"When you're a bankable star like me they don't skimp on the megs, no siree bobcat... 16 megs! 16 mondo megs of marvelous me pouncing outta' this car – running, leaping, flying and falling all over your face!"
"I'm Bubsy. I'm tryin' to save the Earth from Woolies. No, Woolies aren't what you get from wearing cheap underwear! Woolies are space dweebs in flying saucers out to purr-loin the earth's supply of yarnballs. But enough about them. Let's talk about me!"
16 megs - "Over 40 awesome animations. Five wild worlds. Countless furballs!"
16 big levels - "An average of 300 screens purr level. Humongous or what?"
7 music tracks - "Just like goin' to the show to see a "Furminator" movie."
Interactive cartoon - "Spend Saturdays playing cartoons, not watching 'em!"
More Sound Effects - "I plop. I boing. I splat. I need medical attention."
Gorgeous Graphics - "I'm prettier than Mel and Debbie Gibson combined."
Digitized voice - "Next, I'm gonna get my own 1-900 number!"
Story
Aliens known as Wollies have invaded Earth to steal all of the world's yarn. Since they have stolen Bubsy's yarn, Bubsy sets out to defeat the Woolies and recover the world's yarn.
Gameplay
Bubsy is a high-speed 2D platforming game. In addition to jumping, the player can also make Bubsy glide by pressing the Y or X buttons while in midair. Scattered across each level are yarn balls that increase the player's score. Players can also find different T-shirts that have different effects: shirts with a number increase the player's lives by that number, black shirts make Bubsy invisible to enemies, and shirts with an exclamation point make him invincible. Extra continues can also be collected. Players start the game with nine lives, and a single hit will instantly lose a life; Bubsy will also lose a life if he falls from too great a height without gliding.
At the end of each world, the player is given a password in order to continue from that point in the game; passwords can be entered from an option on the title screen.
Development
Bubsy was created by Michael Berlyn.[1] Having written and designed numerous adventure games both before and after being hired by Accolade, Berlyn grew tired of the genre and instead wanted to create something more similar to Super Mario or Sonic the Hedgehog, but when he approached his producer he was turned down.[1][2] Asking what he would have to do to convince him otherwise, Berlyn was told to write a detailed analysis of Sonic the Hedgehog.[2] Berlyn played the game for around 10 hours each day for a week to write his analysis, which convinced his producer to allow him to create a game.[1][2] Because that producer was too busy with other projects at the time, Berlyn instead found a producer within Accolade.[2]
Designing the character of Bubsy took several months.[2] The team proposed getting a license to use Chester Cheetah, but Berlyn was adamant on creating an original character.[2] Every artist on the team, including the art director, attempted to depict the character's attitude based on Berlyn's sketches, but none of them were seen as viable.[2] The art director then contacted a comic book artist he knew that had drawn animal characters, and was ultimately hired after having him draw the character.[2]
Reception
At release, Bubsy received largely positive reviews from critics, who praised the gameplay, animations, and implementation of voice clips. Of the four Electronic Gaming Monthly scores, two reviewers gave the game a 9 out of 10, one an 8, and one a 7.[3][4] US magazine GamePro rated Bubsy a perfect score of 5 out of 5.[3] The three reviewers for Game Informer gave the game an 8.75, 9, and 8.5 out of 10.[4]
Modern reception of Bubsy, however, is considerably more negative. In an article looking back at the game, Levi Buchanan of IGN stated that "Claws Encounters of the Furred Kind is only a mediocre game." While he praised the game's art direction and features such as Bubsy's many death animations, he was largely critical of the core gameplay, noting the game's floaty jumping and levels not being designed around the character's speed.[5]
Technical details
| | |
| --- | --- |
| Media | SNES Game Pak |
| Input / compatible controllers | |
External links


Bubsy in Claws Encounters of the Furred Kind on other NIWA Wikis:
References
↑ 1.0 1.1 1.2 Playing Catch-Up: Bubsy's Michael Berlyn. Gamasutra (October 3, 2005). Retrieved June 7, 2017.
↑ 2.0 2.1 2.2 2.3 2.4 2.5 2.6 2.7 Interview with Michael Berlyn the creator of Bubsy Bobcat. doctorclu (YouTube; May 24, 2016). Retrieved June 8, 2017.
↑ 3.0 3.1 Bubsy the Bobcat: What Did Critics Think at the Time? Defunct Games (August 10, 2013). Retrieved June 7, 2017.
↑ 4.0 4.1 Bubsy the Bobcat. Vault 1541 (October 31, 2017). Retrieved November 19, 2107.
↑ What Hath Sonic Wrought?, Vol. 1. IGN (November 7, 2008). Retrieved June 7, 2017.