Site Notice
We have a limited coverage policy. Please check our coverage page to see which articles are allowed.
Please no leaked content less than one year old, or videos of leaks.
Content copied verbatim from other websites or wikis will be removed.
Chalien series
Jump to navigation
Jump to search
The Chalien series (whether it is the Chalien series or Chee-Chai Alien series is open to debate) is a small Nintendo franchise, with copyright ownership to Creatures, Inc. and Nintendo consisting of three games (as well as one initially not owned by Nintendo). The franchise focuses on fictional small alien creatures known as the Chee-Chai Aliens, who are known in short as the Chailiens (or Chaliens in Spin Six) and live in the Petit Galaxy; a galaxy shaped like a pig's nose.
Games
Official websites
This article is incomplete.
You can help by filling in the missing information.
Chailien.com: The main one, it is very in-depth and (was) quite comprehensive but the deprecation of Flash and recent dormancy has lead to both glitches and lost media, such as short animated Chalien cartoons, stop-motion, and an interactive encyclopedia where users browse space to find them on a planet or star, to know their group in the actual Chee-Chai Alien game.
MoCA: Formally approved art site, origins/further details today have been forgotten, so it's unclear whether it was originally Creatures, Inc.'s or Hirokazu Tanaka's own website.
Roitchi Online: Actually a sub-section of the Chailien.com domain. It could be an official Nintendo meme, of which others in the history of Nintendo exist, especially on Twitter. Note the (Japanese name) of Roitchi the green elephant-like Chalien was originally Eroitchi but perhaps not to be controversial due to association with Eros. There may be less stigma about this concept compared to the West.
Creatures.co.jp: Developer company's main Japanese website. It has mentioned the Chalien series in a works list.
Third party works
Games
Chee-Chai Alien
ちっちゃいエイリアン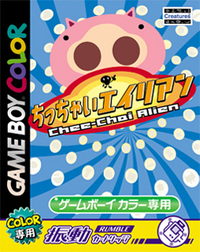 Front box art
| | |
| --- | --- |
| N. America: | Unreleased |
| Japan: | February 27, 2001 |
| Europe: | Unreleased |
| Australia: | Unreleased |
| S. Korea: | Unreleased |
Chee-Chai Alien is a game for Game Boy Color developed and published by Creatures, Inc.
Gameplay
This game is a compilation of minigames, with collectable characters known as Chaliens. It is normally only possible to play the game on a Game Boy Color (due to one of the main features of the game requiring infrared port use; which the Game Boy Advance does not have). The Chaliens can only be found by pointing the Game Boy Color at artificial light sources. The Chaliens can be interacted with (loosely similar to Pokémon and Tamagotchi) and have their dark matter extracted to advance the story. Playing with the Chaliens in the "Polariton" allows for the player to unlock their minigames.
Notes and cameos
This game is owned by The Pokémon Company affiliate and not necessarily by Nintendo, and the developers published this game by themselves. Despite this, the "Chalien" series later became its own Nintendo franchise (beginning with Nonono Puzzle Chalien being published by Nintendo) and Nintendo staff are listed in "special thanks". The game has a number of cameos which are as such;
Saraba tells the player at the beginning of the game that the concept of the game is like Pokémon.
Dolphin, Advan and Rabuta are based on the Nintendo GameCube, Game Boy Advance and Love Tester, respectively.
Denny's minigame "Hunger Flight" is based on Balloon Fight's "Balloon Trip" mode.
Myd's minigame "Mystery Circle", includes "!" marks above the farmer's head; similar to those found in Pokémon.
References
Music
During a promotional period, Chee-Chai Alien CD was released; featuring full versions of the main theme Chee-Chai Alien no Uta and additional songs, as such[1]:
Chee-Chai Alien no Uta (Japanese: ちっちゃいエイリアンのうた)
Go! Go! Chalien (Japanese: ゴー!ゴー!ちゃいリアン)
Chee-Chai Alien no Serenade (Japanese: ちっちゃいエイリアンのセレナーデ): Likely based on the Chee-Chai Alien no Serenade animated clip on the official Chailien.com website
Chalien Hakken! no Theme (Japanese:「チャイリアン発見!」のテーマ)
Chee-Chai Alien no Uta (Japanese: ちちちゃいエイリアンのうた): As it is listed twice, one may be with vocals the other instrumental; which is sometimes the case with promotional CDs.
Comics
Mi Kakunin Uchuu Seimei-tai GoGo! Chalien (a manga serialised in Bessatsu Coro Coro Comic from June until December 2001 about the Chaliens).
References