Site Notice
We have a limited coverage policy. Please check our coverage page to see which articles are allowed.
Please no leaked content less than one year old, or videos of leaks.
Content copied verbatim from other websites or wikis will be removed.
Game Boy Advance Video
Jump to navigation
Jump to search
Game Boy Advance Video is a line of Game Boy Advance Game Paks containing episodes of television shows to view on Game Boy Advance systems by Majesco. The compression technology and cartridge technology were created by game developer DC Studios, who originally showed the technology to Majesco in 2003.[1] The released titles included shows licensed from networks such as Cartoon Network, Nickelodeon, Disney Channel, and 4Kids. The majority of Game Boy Advance Video releases were published by Majesco, with the exception of the Pokémon anime releases, which were instead published by Nintendo.
The first wave of Game Boy Advance Video titles were released in May 2004.[2] Initial Game Boy Advance Video Game Paks have a capacity of 128 megabits and could store up to 45 minutes of video.[1][3] Most cartridges contained two to four full episodes of a show, depending on the length. In October 2005, Majesco began to release full-length movies for the format with the release of DreamWorks' Shrek.[4] The Game Paks are incompatible with the Game Boy Player to prevent users from copying the video onto VHS or DVD formats.[3]
Titles published by Nintendo
Trivia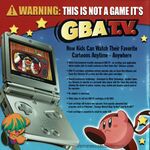 In May 2003, 4Kids Entertainment announced that its subsidiary, 4Kids Technology, had developed a similar technology to compress video onto a Game Boy Advance cartridge, and that they had partnered with Nintendo to release a number of their programs in the fourth quarter of 2003 as "GBA-TV", which would be showcased at E3.[5] It is unknown what became of this, as 4Kids would instead license its programs to Majesco to release as part of the Game Boy Advance Video line.
External links


Game Boy Advance Video on other NIWA Wikis:
References