Site Notice
We have a limited coverage policy. Please check our coverage page to see which articles are allowed.
Please no leaked content less than one year old, or videos of leaks.
Content copied verbatim from other websites or wikis will be removed.
Inazuma Eleven 3
Jump to navigation
Jump to search
Inazuma Eleven 3
イナズマイレブン3 世界への挑戦!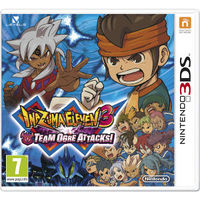 European boxart of Inazuma Eleven 3: Team Ogre Attacks!
Japan:
July 1, 2010 (Spark/Bomber)
December 16, 2010 (The Ogre)
Europe:
September 27, 2013 (Lightning Bolt/Bomb Blast)
February 14, 2014 (Team Ogre Attacks!)
Inazuma Eleven 3 is a group of three entries in the Inazuma Eleven series of soccer RPG video games, released for the Nintendo DS in Japan, and the Nintendo 3DS in Europe. In both countries, the first two games to be released were Inazuma Eleven 3: Lightning Bolt and Bomb Blast (Spark and Bomber in Japan). The Lightning Bolt version features a side-story about the captain of the Italian soccer team, Paolo Bianchi, while Bomb Blast features a side-story about Hector Helio, captain of the team representing the fictional area Côte-Victoire, which is part of South Africa.
At a later date, Inazuma Eleven 3: Team Ogre Attacks! (The Ogre in Japan) was released, containing side-stories about main character Mark Evans' great-grandson Canon Evans, and the antagonistic Team Ogre, both of whom travel from the future, while also making other improvements to the existing games. Japan received all three titles in 2010, though Europe received them across 2013 and 2014, while the games were not released in North America at all. Although the games were initially released as DS titles in Japan, the 3DS versions were released in the country as part of the compilation game Inazuma Eleven 1-2-3: Endou Mamoru Densetsu.
Season 3 of the Inazuma Eleven anime follows the events of these games. The trio of games round off the original Inazuma Eleven trilogy, and the next releases started the Inazuma Eleven GO trilogy, which takes place ten years after the events of these games.
Blurb
Inazuma Eleven 3: Lightning Bolt Blurb
Inazuma Eleven 3: Bomb Blast Blurb
Inazuma Eleven 3: Team Ogre Attacks! Blurb
Story
Mark Evans and the rest of the Raimon Eleven have not seen their friends from the events of Inazuma Eleven 2 for three months, which they have lived peacefully. One sudden day, the Raimon Eleven, the friends who travelled with them three months ago, and other players have all been gathered in one place. These players have been chosen as candidates to represent Japan in the all-new Football Frontier International! The candidates are whittled down to form a 16-man team called Inazuma Japan. They decide to win the tournament for their country, but it seems there is more to the tournament than Inazuma Japan could have expected. Mark also receives a mysterious letter that claims to be from his long-deceased Grandfather!
Gameplay
Mark and three friends can explore the overworld, being controlled by the Circle Pad, D-Pad or Touch Screen, chatting with other characters. In soccer matches, the player can command players to run to any specific location, and can make them attempt to score goals by tapping the goal when within a certain distance, and choosing the type and strength of the shot.
Gallery
External links

| | |
| --- | --- |
| Original series | |
| GO series | |
| Strikers series | |