Site Notice
We have a limited coverage policy. Please check our coverage page to see which articles are allowed.
Please no leaked content less than one year old, or videos of leaks.
Content copied verbatim from other websites or wikis will be removed.
Wario Land: Shake It!
Jump to navigation
Jump to search
Wario Land: Shake It!
ワリオランドシェイク
Wario Land Shake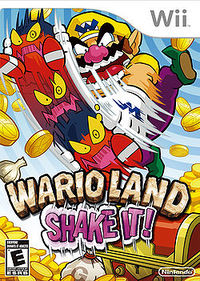 Cover artwork of Wario Land: Shake It!
| | |
| --- | --- |
| N. America: | September 22, 2008 |
| Japan: | July 24, 2008 |
| Europe: | September 25, 2008 |
| Australia: | September 26, 2008 |
| S. Korea: | April 14, 2011 |
Wario Land: Shake It! (released in PAL territories as Wario Land: The Shake Dimension and in South Korea as Wario Land Shaking) is the sixth installment of the Wario Land series, developed by Good-Feel and released in 2008. The game's sprites were all drawn by hand, and the game's animated opening and ending were done by Production I.G.
Blurb
Box
Treasure!
Yours for the shaking!
Forget the princess–save the treasure! Shake your way to riches!
Five huge continents to explore!
Shake the Wii Remote™ controller for fun and profit!
Story
At the beginning of the game, Captain Syrup has broken into a museum to steal some treasure when a globe and telescope catches her eye. Peeking into the telescope, she sees that the globe houses another world called the Shake Dimension. The other world has been taken over by the Shake King, who has stolen an artifact called the Bottomless Coin Sack and has imprisoned all of the world's Merfle inhabitants, including Queen Merelda. Believing that stealing the treasure will be too difficult, she steals the globe and sends it to Wario, telling him that there is a treasure in the globe. Wario misinterprets the message and is about to smash it with a hammer, but is stopped by the sudden appearance of a Merfle that avoided capture. Wario shows little interest in the Merfle's plight until the treasure is mentioned, at which point he enters the globe and goes on the quest to stop the Shake King.
Gameplay
Technical details
Media

Wii Game Disc
Digital download (Wii U)

Input / compatible controllers
Other releases
Title
Cover art
Platform
Release date(s)
Notes
Wario Land: The Shake Dimension
Wii U
NA: November 17, 2016
JP: August 24, 2016
EU: April 7, 2016
AUS: April 8, 2016
A digital re-release of the game on the Nintendo eShop for Wii U.
External links
| | |
| --- | --- |
| | This article is a stub. You can help NintendoWiki by expanding it. |