Site Notice
Please check our Coverage page to see what deserves an article and what doesn't.
Please no leaked content less than one year old, or videos of leaks.
Wario series
Jump to navigation
Jump to search
Wario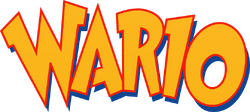 Wario Land series logo
For in-depth information:
is dedicated to chronicling the Wario series.
The Wario series is a series of games starring the Super Mario character Wario, encompassing the Wario Land series of platforming games and the WarioWare series of party games, as well as other miscellaneous games featuring Wario and characters from the Wario Land or WarioWare games. Wario's character was designed by Hiroji Kiyotake, and much of his character has been defined by his appearances in these games.
Overview
[
edit
]
The character Wario would debut in Super Mario Land 2: 6 Golden Coins, developed by Nintendo R&D1, as the game's antagonist. For the third game in the series, Wario was instead placed in the starring role, with the game being titled Wario Land: Super Mario Land 3. This game would later receive a sequel, spinning off into its own series of platforming games in a similar manner to Super Mario World 2: Yoshi's Island. While the original title and Virtual Boy Wario Land use a similar gameplay structure to the Super Mario series, Wario Land 2 would introduce a "reaction"-based power-up system, making Wario invulnerable to enemy attacks other than losing money, while some enemies would instead transform him in various ways. The goal of each game is to collect as much treasure as possible before the end of the game.
The WarioWare series originally began as a project based upon a series of small minigames in the Nintendo 64DD game Mario Artist: Polygon Studio. Using Wario as the central character as the team could not think of a more suitable character, Nintendo R&D1 began development of the project in secret until they presented the project and it was approved. The games star Wario as the head of his own company creating "microgames", very short minigames that only take seconds to play. Future installments in the series would be developed by Nintendo SPD Group No.1, composed of much of the same staff as the R&D1 team.
References
[
edit
]
External links
[
edit
]
| | |
| --- | --- |
| | This article is a stub. You can help NintendoWiki by expanding it. |