Site Notice
Please check our Coverage page to see what deserves an article and what doesn't.
Please join in a discussion about our coverage.
Be sure to join the discussions going on the NIWA Wikis Discord Server.
Please no leaked content, however information from interviews and information data-mined from officially released products is allowed.
Inazuma Eleven GO Galaxy
Jump to navigation
Jump to search
Inazuma Eleven GO Galaxy
イナズマイレブンGO ギャラクシー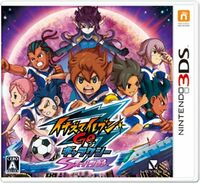 Japanese boxart of Inazuma Eleven GO Galaxy: Supernova
Inazuma Eleven GO Galaxy is a group of two entries in the Inazuma Eleven series of soccer RPG video games, released for the Nintendo 3DS in Japan. The game came in two different versions, Big Bang and Supernova. Differences between the two versions include alternative opening songs, and an exclusive post-game football match.
The Inazuma Eleven GO Galaxy anime follows the events of these games. These are the last of three entries in the Inazuma Eleven GO trilogy.
The game was likely planned for a European release, like its immediate predecessors, but a three-year trademark dispute[1] made this an impossibility, meaning that only the series' anime and manga adaptations could be localised in certain European countries such as Spain and France.
Gameplay
Matsukaze Tenma (English: Arion Sherwind) and five friends can explore the overworld, being controlled by the Circle Pad, D-Pad or Touch Screen, chatting with other characters. In soccer matches, the player can command players to run to any specific location, and can make them attempt to score goals by tapping the goal when within a certain distance, and choosing the type and strength of the shot. Fighting Spirits can be used to greatly enhance the abilities of players, which can also be "Armourfied" , allowing them to return to their standard moveset, with all the power of a Fighting Spirit. Mix 'n' Matching allows characters to imbue the aura of another player or relevant character. This will merge the appearances of the two characters, and offer enhanced power during the match, as well as exclusive moves. Mix 'n' Matching can be combined with Fighting Spirits or Armourfied Fighting Spirits.
New to Inazuma Eleven GO Galaxy is "Souls" (English dub: "Totems"), which imbue the spirit of an animal within the player character and allow access to powerful "Soul Strikes" (Totem Strikes) which also carry additional effects randomised by a roulette wheel.
Gallery
External links

| | |
| --- | --- |
| Original series | |
| GO series | |
| Strikers series | |