Site Notice
Please check our Coverage page to see what deserves an article and what doesn't.
Please join in a discussion about our coverage.
Be sure to join the discussions going on the NIWA Wikis Discord Server.
Please no leaked content, however information from interviews and information data-mined from officially released products is allowed.
Nintendo Power/Volume 100
Jump to navigation
Jump to search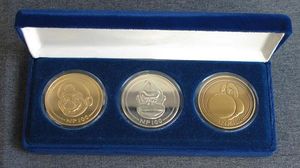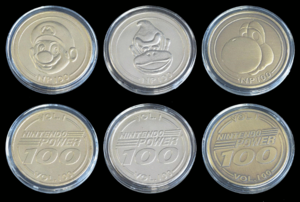 Volume 100 of Nintendo Power was the September 1997 issue of the magazine. Rather than feature a game, the magazine instead commemorated 100 issues with three top 100 lists, and previews for upcoming Nintendo 64 games.
To celebrate the one hundredth issue of Nintendo Power, the magazine released a blue velvet protector case containing three collector coins, which consists of the Nintendo character heads of Mario on the gold coin, Donkey Kong on the silver coin, and Yoshi on the bronze coin.
Player's Pulse
[
edit
]
Six pages of reader mail, fan art, and responses. Also includes a timeline of Nintendo's history in the video game market, a history of Nintendo Power, a special Nester comic featuring Nester (now in college) challenging a kid in Star Fox 64, the top 30 Power Chart picks of all time:
Power Charts
[
edit
]
The most popular games of the month as voted on by Nintendo Power readers:
Nintendo 64 Top 10
Super NES Top 10
Game Boy Top 5
Most Wanted
New Game Previews
[
edit
]
Exclusive previews of upcoming games for the Nintendo 64, which include:
Included in the middle of this section is the poster, which features almost every cover of Nintendo Power to date.
Strategy
[
edit
]
Included in this section is the top 100 ambush spots when playing the multiplayer mode of GoldenEye 007.
100 Other Things That Equal 100
[
edit
]
A list of 100 various facts that involve the value 100 (i.e. number of legs a centipede has, the number of coins that earns a Star in Super Mario 64, etc.).
100 Best Codes Ever
[
edit
]
The top 100 cheat codes in video games according to Nintendo Power
Counselor's Corner
[
edit
]
Q&A Fast Facts:
Player's Poll Contest
[
edit
]
By filling out the player's poll, 100 players each can win prizes:
Classified Information
[
edit
]
Provides cheat codes for:
100 Best Games of All Time
[
edit
]
Nintendo Power's list of the top 100 video games.
Also featured in this section is a list of the top 10 worst games of all-time:
10. The Adventures of Rocky and Bullwinkle and Friends (Game Boy, NES, SNES)
9. Color a Dinosaur (NES)
8. Beethoven (Game Boy)
7. Michael Jordan: Chaos in the Windy City (SNES)
6. Friday the 13th (NES)
5. Pit-Fighter (SNES, Game Boy)
4. Advanced Dungeons & Dragons: Heroes of the Lance (NES)
3. Shaq Fu (SNES, Game Boy)
2. Barbie: Super Model (SNES)
1. Bébé's Kids (SNES)
The best player high scores and times for 100 games to appear in past volumes of Nintendo Power.
Now Playing
[
edit
]
Reviews of current games. As of this issue, the Now Playing review format was revamped to make it simpler for readers to understand.
Pak Watch
[
edit
]
Previews for the following upcoming games:
This section also includes news and game updates:
Also featured in the insider update section is a list of the first 100 Nintendo 64 releases.
Next Issue
[
edit
]
The features to be included in the October 1997 issue: