Site Notice
Please check our Coverage page to see what deserves an article and what doesn't.
Please join in a discussion about our coverage.
Be sure to join the discussions going on the NIWA Wikis Discord Server.
Please no leaked content, however information from interviews and information data-mined from officially released products is allowed.
Nintendo Power/Volume 257
Jump to navigation
Jump to search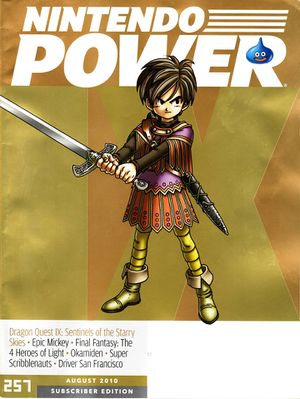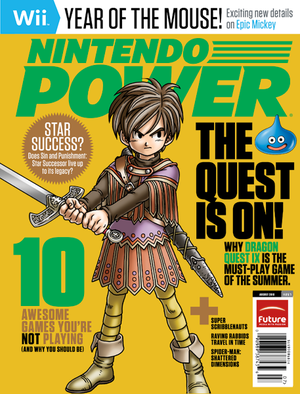 Magazine
[
edit
]
Features
[
edit
]
Cloud X
[
edit
]
Dragon Quest XI
Back in the Driver's Seat
[
edit
]
Driver: San Francisco
Why Aren't You Playing This?
[
edit
]
A Wolf in Cub's Clothing
[
edit
]
Okamiden
Departments
[
edit
]
Special Letter Request: What's a cool new idea for a Yoshi Fruit?
The Score:
Ryu (76%) Vs. Ken (24%)
Favourite Nintendo Slogan: Wii Would Like to Play (43%), Now You're Playing with Power (32%), Get N or Get Out (19%), Life, Advanced (6%), Play it Loud! (~1%)
Cloud Mario (74%) Vs. Rock Mario (26%)
When grabbing a star in Super Mario Galaxy, is your jump simple (37%) or flashy (63%)?
Do you play your DS at home (~70%) or away (~30%)?
Best Vacation Spot (most to least): Isle Delfino, Yoshi's Island, Wuhu Island, Koholint Island, Adventure Island, C-Island (StarTropics)
The most fun to ride in real life: Yoshi (47%), Samus's ship (18%), An Arwing (17%), Epona (14%), Blue Falcon (10%)
What matters most in a game: A Great Story (40%), Innovation (32.5%), Great Controls (22.5%), Great Graphics (5%)
Power Up
[
edit
]
Announcements
[
edit
]
Final Fantasy: The 4 Heroes of Light
Kingdom Hearts Re:coded
Rock Band 3
DJ Hero 2
Harry Potter and the Deathly Hallows - Part 1
Pac-Man Party
Raving Rabbids Travel in Time
Fire Emblem: Shadow Dragon
The Last Story
Interviews
[
edit
]
Takashi Tokita
Akiro Hino
Collector's Corner
[
edit
]
Metal Sonic figurine
Kingdom Hearts figurines (Mickey Mouse, Cloud Strife, Sephiroth)
Prince of Persia movie toy collection
Star Power
[
edit
]
Captain Falcon is featured. In the career graph, is high points are the Super Smash Bros. games and his low points are the F-Zero games. The NP crew's favorite games of his are F-Zero, F-Zero X, Super Smash Bros. Melee, and F-Zero GX. Some of Captain Falcon's physical attributes are showcased, as well as his ship, "The Blue Falcon", his career as a bounty hunter and his infamous catchphrase, "Show me you moves!"
Game Forecast
[
edit
]
Over 30 titles are added, including the aforementioned "Final Fantasy: The 4 Heroes of Light".
Readers' Most Wanted
[
edit
]
A Winner Is/Dodongo Dislikes features a shameless plug for the Nintendo Power Zelda Special, and then bashes games "with arbitrary time limits" to cover it up.
Warp Zone looks back at August Issues from 2005, 2000, and 1990.
The Power Quiz takes on trivia from the first 3 Metroid games.
Downloads
[
edit
]
Previews
[
edit
]
Wiiware
[
edit
]
Evaluation Station
[
edit
]
Previews
[
edit
]
Nintendo DS
[
edit
]
Power Profiles
[
edit
]
For its 41st iteration of the Power Profiles, Nintendo Power interviews Warren Spector, the creator of Deus Ex and Epic Mickey.
Playback
[
edit
]
Nathan M. takes a look at Final Fantasy Adventure for the Game Boy. He explains the game's basics in a relatively unbiased fashion, though he praises its status as a portable title.
Reviews
[
edit
]
Nintendo DS
[
edit
]
Community
[
edit
]
Nathan M. looks at the tenth anniversary of the NES cover band, "Minibosses", while Andrew H. looked at a PC modified to look like a 16-Bit Super Mushroom.
Next Month
[
edit
]
A short blurb is dedicated to the Fall Games Guide, featured in the then upcoming volume 258 of Nintendo Power.
Credits
[
edit
]
.
.