Site Notice
Please check our Coverage page to see what deserves an article and what doesn't.
Please no leaked content less than one year old, or videos of leaks.
Disaster: Day of Crisis
Jump to navigation
Jump to search
Disaster: Day of Crisis
ディザスターデイオブクライシス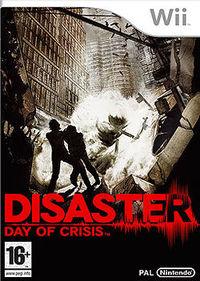 European box art.
| | |
| --- | --- |
| Developer(s): | Monolith Soft |
| Publisher(s): | Nintendo |
| Platform: | Wii |
| Category: | Action |
| Players: | 1 |
| Predecessor: | N/A |
| Successor: | N/A |
| | |
| --- | --- |
| Japan: | September 25, 2008 |
| Europe: | October 24, 2008 |
| Australia: | November 13, 2008 |
Disaster: Day of Crisis is an action game themed around natural disasters, developed by Monolith Soft for the Wii and released in 2008. Initially unveiled at E3 2006, the game was never released in North America; according to Reggie Fils-Aimé, the game's performance in Europe would determine whether or not Nintendo would see fit to release the game in North America.[1][2]
In an interview with staff from Monolith Soft and Nintendo, director Keiichi Ono stated that a sequel had been conceptualized, but that actual development depended on sales of the first game.[3]
During a routine rescue mission around Mount Aguilas by the International Rescue Team, the dormant volcano suddenly erupts. Member Steve Hewitt gives his antique compass to fellow member Raymond Bryce, telling him to give it to his sister Lisa in case he doesn't make it. As they are escaping, Steve sacrifices himself so that Ray can live, knowing that only one of them would survive.
One year later, Ray has retired and has not confronted Lisa. However, he is suddenly told to meet with the Blue Ridge City FBI division. He meets with Agent Olson, who tells him that the former military organization SURGE has stolen nuclear weapons and kidnapped a pair of scientists (one of them being Lisa), and is threatening to detonate if the US government does not comply with their demands within 24 hours. Ray accepts the mission due to Lisa's involvement, and takes on SURGE in a variety of locations while avoiding and combating the effects of natural disasters.
Gameplay
[
edit
]
| | |
| --- | --- |
| | This section is a stub. You can help NintendoWiki by expanding it. |
Development
[
edit
]
Disaster: Day of Crisis was originally announced by Nintendo at E3 2006.[4] While little information about the game was released in the following months, Nintendo of America's Beth Llewellyn confirmed at E3 2007 that Disaster was still in development.[5][6] Disaster: Day of Crisis was intended to be released around the launch of the Wii; development on the game took longer than anticipated as it was the first core action game to be developed by Monolith Soft when the studio was more accustomed to creating RPGs, and because it took the team longer than expected for the developers to fully understand the Wii's hardware capabilities.[7][3] The team working on the game was "slightly larger than that of 'Baten Kaitos' games."[3]
While the concept for the game was largely based on the disaster film genre, it was not based on any particular movie, instead taking elements from several different films.[3] The overall goal of development was to create a game with "a cinematic power that had not been seen before."[7] The ultimate priority with the gameplay was to keep the pace high, similar to an actual disaster movie.[3] To take advantage of the Wii Remote's unique capabilities, the developers implemented several different play styles so as to allow players to "play with the various aspects of a disaster" with various context-sensitive actions.[3] Multiplayer or Nintendo Wi-Fi Connection features were not implemented as Monolith Soft felt they did not fit the theme of the game, designing the game exclusively as a single-player experience.[3]

Reception
[
edit
]
Disaster: Day of Crisis received mixed critical reception, aimed primarily at the game's presentation and numerous gameplay styles. Famitsu rated the game a 34/40 (8/8/9/9). Official Nintendo Magazine rated the game 82%, primarily criticizing the enemy AI but overall stating that "Day Of Crisis is a fun - if rather basic - adventure game."[9] Matt Wales of IGN gave the game an 8 out of 10, stating that, "despite its rough edges, there's an incredibly unique, hugely visceral experience to be had with Day of Crisis," though also claiming that "some people will absolutely detest Disaster: Day of Crisis." Eurogamer's John Walker stated that "the frenzy of different genres is only confusing, not letting any one element shine," overall giving the game a 6 out of 10. Randolph Ramsay of GameSpot gave Disaster a 5.5 out of 10, criticizing the gameplay by stating that, "Practically every Wii Remote-waggling gimmick dreamed up for the Wii (so far) has been thrown into the mix, resulting in a game that's unfocused and scatterbrained," and overall stating that, "It's fun in parts, but as a whole, Disaster is no earth-shattering experience."
According to IGN's Nintendo Voice Chat, Reggie Fils-Aimé stated in an interview at a Nintendo media briefing that Disaster: Day of Crisis was not worth $50, calling its voice work "laughable".[2][10]
Disaster: Day of Crisis was the tenth best-selling game on its first week of sales in Japan, with 14,310 copies sold.[11] Hitoshi Yagami of Nintendo would state that the game sold lower than expected.[3]

Technical details
[
edit
]
| | |
| --- | --- |
| Media | Wii Game Disc |
| Input / compatible controllers | |
External links
[
edit
]


Disaster: Day of Crisis on other NIWA Wikis:
References
[
edit
]