Site Notice
We have a limited coverage policy. Please check our coverage page to see which articles are allowed.
Please no leaked content less than one year old, or videos of leaks.
Content copied verbatim from other websites or wikis will be removed.
Animal Crossing: Pocket Camp
Jump to navigation
Jump to search
Animal Crossing: Pocket Camp
どうぶつの森 ポケットキャンプ
Dōbutsu no Mori Poketto Kyanpu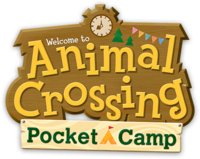 English game logo.
Developer(s):
Nintendo
DeNA[1]
Nd Cube[2]
Publisher(s):
Nintendo
Platform:
Mobile devices
Category:
Simulation
Players:
1
Predecessor:
N/A
Successor:
N/A
| | |
| --- | --- |
| Worldwide: | November 22, 2017[3][4] |
| Australia: | October 25, 2017[5] |
Animal Crossing: Pocket Camp is a free-to-start[6] smartphone title in the Animal Crossing series. The game was released on both iOS and Android devices in Australia in October 2017[5], and will be released worldwide in late November 2017.[3]
Gameplay
The Animal Crossing mobile game will be a free-to-start title, and is said to be more of a "pure-game app" compared to Miitomo, Nintendo's first mobile game. According to Nintendo, this game will be designed to be "connected to the world of Animal Crossing for dedicated gaming systems."[7]
Development
A new mobile installment in the Animal Crossing series was originally announced during an investors' meeting in April 2016, and planned release during fall that year.[8] However, the game's release was announced to be delayed for the launch of Super Mario Run in December, and stated to launch before the end of March 2017.[9] Later, at an investors' meeting in January 2017, the game was again announced to be delayed once again to account for the launch of both the Android version of Super Mario Run and Fire Emblem Heroes, and would instead be released during the next fiscal year.[10] However, Reggie Fils-Aimé would later state that the game would launch in 2017 during an interview at E3 2017.[11] In October 2017, Animal Crossing: Pocket Camp was revealed during an Animal Crossing Mobile Direct.[3]
When asked why Animal Crossing was chosen to be one of the first Nintendo properties to receive a mobile installment, Tatsumi Kimishima answered that both it and Fire Emblem were chosen "from the viewpoint of increasing the diverse types of consumers interested in Nintendo", and that Animal Crossing is a franchise that reaches a wide audience.[12]
Animal Crossing: Pocket Camp was developed using the Unity engine.[13] According to sources involved with development, work on the game was completely restarted at least once for quality reasons.[14][15]
Reception
Within twelve hours of the game's launch in Australia, Animal Crossing: Pocket Camp became the top ranking app on the App Store, faster than Super Mario Run.[16]
Technical details
Media

Digital download (mobile)

Download size

104.9 MB

System requirements

iOS: iOS 9.0 and newer
Android: Android 4.2 and newer

Supported features

Family Sharing

Input / compatible controllers

Touchscreen
Gallery
External links
References