Site Notice
Please check our Coverage page to see what deserves an article and what doesn't.
Please no leaked content less than one year old, or videos of leaks.
Conker's Bad Fur Day
Jump to navigation
Jump to search
Conker's Bad Fur Day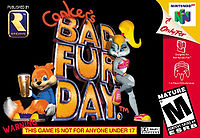 Boxart for Conker's Bad Fur Day
| | |
| --- | --- |
| N. America: | March 5, 2001 |
| Europe: | April 6, 2001 |
| Australia: | May 25, 2001 |
Conker's Bad Fur Day is a video game released in 2001 for the Nintendo 64. The game was originally unveiled at E3 1997 under the name Conker's Quest, then was shown again the next year as Twelve Tales: Conker 64, both more child-friendly in a similar vein to Banjo-Kazooie. However, reception of these earlier versions led Rare to redevelop the game to be more mature and vulgar in its content, tone, themes, and humor, leading to controversy around the time the game was released. In Europe, Conker's Bad Fur Day was published by THQ after Nintendo had refused to distribute it.
In 2005, after Rare had been bought out by Microsoft, the game was remade as Conker: Live and Reloaded for the Xbox, while the original release would be included with Rare Replay for the Xbox One. However, the game wouldn't receive a true sequel or follow-up until 2015, with the Conker's Big Reunion campaign in Project Spark, also for the Xbox One.
The guys at Rare have been very, very naughty.
The day after his 21st birthday bash, Conker's sporting the worst hangover ever, and he just can't seem to find his way home. Prepare to stagger through randy, raunchy, raucous scenarios crammed with bad manners, twisted humor, and graphic bodily functions. Unless your a fan of violence, foul language, and racy innuendos, you'd best steer clear of this one.
Warped characters... Meet slow-witted farm implements, a well-endowed sunflower, and a mysterious beast known only as the Great Mighty Poo.
Bizarre behaviors... Transform into a vampire's guano-dropping lackey, battle a caveman whose bone is worse than his bite, and storm the beach in an amphibious assault on an army of sinister stuffed bears.
Frenetic multiplayer modes... Team up with friends or go it alone in seven different multiplayer games or five different free-for-all arenas.
After a night of drinking with friends, Conker finds himself lost in a strange land when he tries to go home, and simply embarks on a quest to return home, helping a variety of characters in need in the process to earn cash. Meanwhile, the Panther King, the king of the land, has been having problems with his side table, which is missing a leg, and seeks the help of his scientist servant Professor Von Kriplespac, who suggests using a red squirrel to replace the missing table leg.
Gameplay
[
edit
]
Conker's Bad Fur Day plays similarly to other 3D platforming games released by Rare at the time. Unlike those games, however, this game does not require the player to collect objects in stages, rather the player is given an objective to complete in each area to progress and earn cash. Like in Banjo-Kazooie and Donkey Kong 64, this game features the action pads that allow characters to perform specific actions, but simplifies the system to one type of pad with "context-sensitive" events.
The game also features a multiplayer mode, in which two to four players can compete in several different game types based on the events of the single-player mode.
Technical details
[
edit
]
| | |
| --- | --- |
| Media | 64 megabyte Nintendo 64 Game Pak |
| Supported features | |
| Input / compatible controllers | |
External links
[
edit
]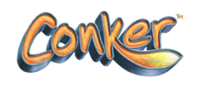 | | |
| --- | --- |
| Original series | |
| Ports & Remakes | |