Site Notice
We have a limited coverage policy. Please check our coverage page to see which articles are allowed.
Please no leaked content less than one year old, or videos of leaks.
Content copied verbatim from other websites or wikis will be removed.
Wii Controller Gum
Jump to navigation
Jump to search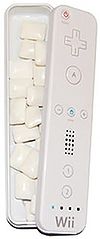 Wii Controller Gum is a tin Wii Remote container that has twenty pieces of gum per unit. They are produced by Boston America, and sold in the US. Each tin container weights Net wt. 1.0 oz (28 g), and measures 1-1/2" x 6" x 3/4" (3.5 cm x 15 cm x 2 cm).
Nutrition Facts
Nutrition Facts
Serving Size: 2 Pieces (3.2g)
Serving Per Package: Approx. 28
Amount Per Serving
Calories 8, Calories from fat 0
% Daily Value

*

Total Fat 0g
0%
Saturated Fat 0g
0%
Trans Fat 0g
0%
Sodium 0mg
0%
Total Carbohydrate 2g
1%
Dietary Fiber 0g
0%
Sugars 0g
Protein 0g
Vitamin A 0% * Vitamin C 0%
Calcium 0% * Iron 0%
Ingredients
Maltose, Xylitol, Gum Base, Sorbitol, Mannitol, Artificial Peppermint Flavor, Gum Arabic, Soy Lecithin, Glycerin, Titanium Dioxide, Carnauba Wax, Acesulfame-Potassium Contains Soy. 2 mg Acesulfame-Potassium per 1g serving.
| | | |
| --- | --- | --- |
| | This article has been tagged as a featured stub. As per Featured Stubs, it has been requested by someone in the community to be the focus on editing efforts to improve quality, structure, information, etc. | |
| | | |
| --- | --- | --- |
| | This article has been tagged as a Product stub. Please help NintendoWiki by editing it. | |

Controllers and accessories
Add-on devices
* - Cancelled