Site Notice
Please check our Coverage page to see what deserves an article and what doesn't.
Please help us discuss our proposed Editor-in-Chief position
Please no leaked content, however information from interviews and information data-mined from officially released products is allowed.
The Legend of Zelda: Encyclopedia
Jump to navigation
Jump to search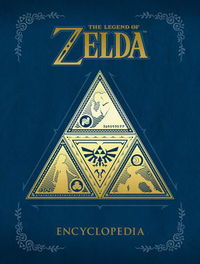 The Legend of Zelda: Encyclopedia[1] is an official Nintendo written encyclopedia about the The Legend of Zelda series.
This book was released in celebration of the series' 30th anniversary.
It covers details such as keywords, enemies, items, dungeons and storyline notes, divided into three chapters from The Legend of Zelda up to The Legend of Zelda: Twilight Princess HD.
In Japan, the book was released on March 1, 2017. In North America, it was released on June 19, 2018.
The book was published by Dark Horse Books in North America, Tokyopop in Germany, Norma Editorial in Spain and Magazzini Salani in Italy.
↑ (Japanese: ゼルダの伝説 30周年記念書籍 第2集 THE LEGEND OF ZELDA HYRULE ENCYCLOPEDIA :ゼルダの伝説 ハイラル百科 (ゼルダの伝説30周年記念書籍), Zelda no Densetsu 30 Shuunenkinen Shoseki Dai 2-Shuu THE LEGEND OF ZELDA HYRULE ENCYCLOPEDIA: Zelda no Densetsu Hyrule Hyakka (Zelda no Densetsu 30 Shuunenkinen Shoseki))
| | |
| --- | --- |
| | This article is a stub. You can help NintendoWiki by expanding it. |