Site Notice
Please check our Coverage page to see what deserves an article and what doesn't.
Please no leaked content less than one year old, or videos of leaks.
The Legend of Zelda: Four Swords Anniversary Edition
Jump to navigation
Jump to search
The Legend of Zelda: Four Swords Anniversary Edition
ゼルダの伝説 4つの剣 25周年記念エディション
Zeruda no Densetsu: Yotsu no Tsurugi 25 Shuunen Kinen Edishon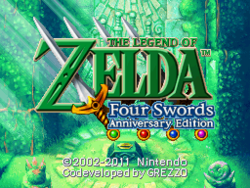 Game title screen.
| | |
| --- | --- |
| Developer(s): | Grezzo |
| Publisher(s): | Nintendo |
| Platform: | DSiWare |
| Category: | Action-adventure |
| Players: | 1-4 |
| Predecessor: | N/A |
| Successor: | N/A |
| | |
| --- | --- |
| Worldwide: | September 28, 2011 |
The Legend of Zelda: Four Swords Anniversary Edition is a DSiWare remake and standalone port of The Legend of Zelda: Four Swords, one of the two games included in The Legend of Zelda: A Link to the Past & Four Swords. Developed by Grezzo, the game was originally released for a limited time on the Nintendo DSi Shop and Nintendo eShop for Nintendo 3DS between September 28, 2011 and February 20, 2012, as part of The Legend of Zelda twenty-fifth anniversary celebration. It was later released a second time exclusively on the Nintendo eShop between January 30 and February 2, 2014, to celebrate the critical acclaim of The Legend of Zelda: A Link Between Worlds.
Nintendo DSi Shop / Nintendo eShop
[
edit
]
When the evil Wind Mage Vaati escapes from confinement, Link must draw upon the power of the legendary Four Sword and save the kidnapped Princess Zelda! But there's a catch–whoever touches the sword will divide into multiples! Play in 1-player mode and control two heroes, or play via DS Wireless Play with up to four friends! Hurdle through challenges by using teamwork as you scramble to collect the most Rupees! The Great Fairies are always watching your efforts, and will reward your bravery based on how many Rupees you collect.
All-new for this edition–new stages and modes! Upon completing the main quest, relive memorable moments from the past with levels based on previous Zelda games in the "The Realm of Memroies". For the bold and daring, test your adventuring skills in "The Hero's Trial"!
Gameplay
[
edit
]
Four Swords Anniversary Edition features a new option to play the game in single-player mode, in which the player switches between controlling two Links. The player can change control and separate the Links with R, and can reunite them with X. The standard multiplayer mode with up to four players is also available, achieved through DS Wireless Play. Medals of Courage, however, are only awarded in multiplayer.
This version of the game features new content in the form of two areas: the Realm of Memories, which features stages based on past The Legend of Zelda games, and the Hero's Trial, which features more difficult versions of the existing stages.
Technical details
[
edit
]
| | |
| --- | --- |
| Media | Digital download (DSiWare) |
| Download size | 112 blocks |
| Supported features | Wireless Play (1-4 players) |
| Input / compatible controllers | Nintendo DSi, Nintendo 3DS |