Site Notice
Please check our Coverage page to see what deserves an article and what doesn't.
Please no leaked content less than one year old, or videos of leaks.
The Legend of Zelda: Ocarina of Time 3D
Jump to navigation
Jump to search
The Legend of Zelda: Ocarina of Time 3D
ゼルダの伝説 時のオカリナ 3D
Zeruda no Densetsu: Toki no Okarina 3D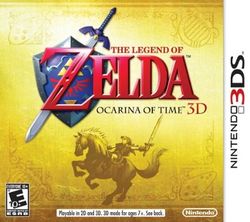 North American box art
| | |
| --- | --- |
| Developer(s): | Grezzo |
| Publisher(s): | Nintendo |
| Platform: | Nintendo 3DS |
| Category: | Action-adventure |
| Players: | 1 |
| Predecessor: | N/A |
| Successor: | N/A |
N. America:
Retail: June 19, 2011
Download: October 18, 2012
Japan:
Retail: June 16, 2011
Download: November 1, 2012
Europe:
Retail: June 17, 2011
Download: October 4, 2012
Australia:
Retail: June 30, 2011
Download: October 27, 2012
S. Korea:
Retail: September 27, 2012
Download: May 2, 2014
The Legend of Zelda: Ocarina of Time 3D is a 3D remake of the Nintendo 64 game, The Legend of Zelda: Ocarina of Time on the Nintendo 3DS. Rather than use the preexisting assets, the game's graphics were remade from the ground up to take full advantage of the superior hardware, while several aspects of gameplay were improved upon to bring the game up to modern standards.
A Legend for the Ages Spans a New Dimension.
Follow your destiny through mountains, dungeons, and time itself to thwart Ganondorf, the evil King of Thieves.
Experience Link's greatest adventure remastered in glorious 3D!
Once you beat the main game, a new, mirrored version of the challenging Master Quest awaits.
Nintendo website
[
edit
]
The Legend of Zelda™: Ocarina of Time™ 3D takes the Nintendo 64™ classic – one of the most critically acclaimed games ever made – and returns it to the Nintendo 3DS system with the added depth and realism of stunning, glasses free 3D visuals. In this game, Link™ sets off on a legendary journey through time to stop Ganondorf, the Gerudo King of Thieves who is seeking the Triforce, a holy relic that gives its holder ultimate power. The graphical upgrades and three-dimensional depth breathe new life into the expansive world of Hyrule. An improved and intuitive interface, coupled with the easier navigation offered by playing in a world with 3D visuals, give players better control as they solve puzzles, travel through time and explore this immersive world. Whether you're a first-time player or a regular visitor to Hyrule, The Legend of Zelda: Ocarina of Time 3D is a new adventure for everyone.
FEATURES:
A Zelda classic now in glasses-free 3D

- Amazing 3D visuals and a complete graphical overhaul bring one of gaming's most beloved and celebrated franchises to life, putting the awe-inspiring world in the palm of your hand for you to explore whenever you like.
New controls using the Nintendo 3DS system's technologies

- The Legend of Zelda™: Ocarina of Time™ 3D retains the analog control of the original with the Circle Pad on Nintendo 3DS, but greatly improves ease of use with a touch-based inventory system. Switching items has never been simpler or quicker.
- Players can also use the first-person shooting (camera-controlled) feature utilizing the gyro sensor.
Experience one of the most critically acclaimed games ever made - completely remastered in stunning, glasses-free 3D. Join Link™ on an epic journey, and see this all-time Zelda™ classic as the creators intended. Explore Hyrule like never before with a major graphical upgrade, further enhanced by 3d visuals. Intuitive touch screen and gyro sensor control creates an immersive experience for any type of gamer.
Gameplay
[
edit
]
Gameplay is mostly kept from the original version, but is updated in several ways. After obtaining the Master Sword, players can switch between Adult Link and Young Link at will by placing and removing it from its pedestal, each Link able to use different items and access different areas. The bottom screen is used for most of the menus and HUD from the original game, allowing players to switch between the area map, equipment, and items at will. For items, players are given four buttons (X, Y, and two touch screen buttons) to equip them on, while the ocarina has its own dedicated button rather than being an item. Some functions, such as the bow and Hookshot or camera, allow for a first-person view controlled either with the circle pad or with the system's built-in gyroscope, allowing players to move the system to aim.
A new feature included in this game is Sheikah Stones. If the player does not know how to progress at certain points, Link can crawl inside the stone and the player can choose to view one of several "Visions", video clips which give the player hints on how to solve a puzzle or overcome a challenge.
This version of the game also includes a version of The Legend of Zelda: Ocarina of Time Master Quest, which can be accessed by beating the game. For Master Quest, the entire game world has been mirrored, and enemies deal twice as much damage. Also available in this version is the Boss Challenge, which allows the player to rematch bosses that have already been beaten, and after every boss has been defeated the "Gauntlet" mode is unlocked, which has Link face every boss in the game in one sitting.
Technical details
[
edit
]
Media

Nintendo 3DS Game Card
Digital download

Download size

4,096 blocks

Input / compatible controllers

Nintendo 3DS
External links
[
edit
]