Site Notice
We have a limited coverage policy. Please check our coverage page to see which articles are allowed.
Please no leaked content less than one year old, or videos of leaks.
Content copied verbatim from other websites or wikis will be removed.
Zelda HD Experience
Jump to navigation
Jump to search
Zelda HD Experience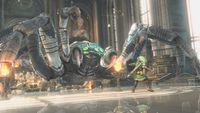 A screen shot from Zelda HD Experience.
| | |
| --- | --- |
| Developer(s): | Nintendo |
| Publisher(s): | Nintendo |
| Platform: | Wii U |
| Category: | Action-adventure |
| Players: | 1 |
| Predecessor: | N/A |
| Successor: | N/A |
Zelda HD Experience is a cinematic technical demo for the Wii U based on The Legend of Zelda series, shown off at E3 2011. The demo was based upon the visual style of The Legend of Zelda: Twilight Princess, and, according to the developers, was primarily created to showcase the Wii U's graphical capabilities and a potential control scheme.
After the demo was shown off, the team experimented by applying the same upscaling to the graphics of The Legend of Zelda: The Wind Waker, leading to the decision to create a full high-definition remaster of the game, The Legend of Zelda: The Wind Waker HD.
Gameplay
The demo is mostly a video of Link confronting a giant spider monster inside of a temple chamber. The Wii U GamePad displays the HUD and a map of the area, and by tapping an icon on the GamePad the player can swap between the default setting or showing the game on the GamePad screen and the HUD on the television screen. By tapping another icon, the player can adjust the lighting between daytime and nighttime. Finally, the left control stick can be used to adjust the camera, while the third icon can be used to change the camera angle.
Technical details
| | |
| --- | --- |
| Input / compatible controllers | |
Gallery