Site Notice
We have a limited coverage policy. Please check our coverage page to see which articles are allowed.
Please no leaked content less than one year old, or videos of leaks.
Content copied verbatim from other websites or wikis will be removed.
Yoshi Sample
Jump to navigation
Jump to search
Yoshi Sample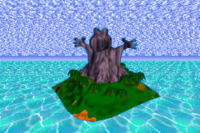 Yoshi Sample start screen
| | |
| --- | --- |
| Developer(s): | Nintendo |
| Publisher(s): | |
| Platform: | Game Boy Advance |
| Category: | Platformer |
| Players: | 1 |
| Predecessor: | N/A |
| Successor: | N/A |
Yoshi Sample is a 2D platforming game and tech demo for the Game Boy Advance. Based on the Nintendo 64 title Yoshi's Story, the demo was showcased alongside the reveal of the system as a showcase of the system's graphical capabilities, and would later be included with software development kits.
Gameplay
Yoshi Sample consists of a single level with no ending, instead looping once the player reaches a certain point. The demo starts on a screen that rotates around Yoshi's Island, which cuts to the start of the stage. Stage gameplay is similar to Yoshi's Story. Unlike other Yoshi titles, Yoshi cannot swallow enemies and create eggs; enemies can only be defeated by jumping on them. Instead, the eggs that appear behind Yoshi correlate to Yoshi's health, represented by the flower petal health meter from Yoshi's Story. If Yoshi is hit by an enemy, petals will fall from the flower, and Yoshi will lose an egg. Hitting the blocks that appear in the level will spawn a balloon, which Yoshi can ground pound to obtain an extra egg. As in Yoshi's Story, when Yoshi loses all of his health, Toadies will appear that take Yoshi to Baby Bowser's castle; after this, the demo will reset.
The demo also includes two debugging features. Pressing the Start button will enable a "CPU Speed Check", while the Select button will damage Yoshi.[1])
Technical details
| | |
| --- | --- |
| Input / compatible controllers | |
References
| | |
| --- | --- |
| | This article is a stub. You can help NintendoWiki by expanding it. |