Site Notice
We have a limited coverage policy. Please check our coverage page to see which articles are allowed.
Please no leaked content less than one year old, or videos of leaks.
Content copied verbatim from other websites or wikis will be removed.
Super Mario 128
Jump to navigation
Jump to search
Super Mario 128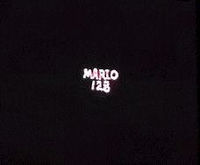 The title screen of Super Mario 128.
Super Mario 128 is a codename referring to a series of experiments and projects over the years to develop a new Super Mario game. Commonly thought to be a sequel to Super Mario 64 (even mentioned by Shigeru Miyamoto as a potential name in an interview in the January 1997 issue of Nintendo Power), Super Mario 128 was eventually cancelled.
Gameplay
In the initial SpaceWorld demo, the game starts with a large rendition of Mario's 8-bit sprite with modern colors on a large, circular board. Over time, however, the boxes representing the pixels raise and are thrown off to reveal 128 Marios, which can all be controlled. The player is also able to control and manipulate the terrain of the board.
Development
Super Mario 128 was first shown off as a tech demo at Nintendo SpaceWorld 2000 (there simply referred to as "Mario 128"). The intention of the demo was to showcase the power of the then-upcoming Nintendo GameCube console by rendering 128 Marios simultaneously, which would have been technically impossible on the Nintendo 64.[1]
After the release of Super Mario Sunshine in 2002, Shigeru Miyamoto would state in an E3 2003 interview that the experiments that led to that game were separate from the Super Mario 128 demo[2], and later in 2003 Miyamoto, in an interview with Nintendo Official Magazine UK, would confirm that Super Mario 128 was still in development as an actual Mario game.[3] In 2004, Miyamoto stated that, while the Super Mario 128 project was still in development, he was uncertain what platform the game would release for, as experiments were being conducted for both the Nintendo GameCube and Nintendo DS.[4] In 2005, Miyamoto stated that the team wanted Super Mario 128 to be a title for the then-upcoming Wii console.[5] By 2007, development on Super Mario 128 had ended.[1]
Several concepts from Super Mario 128 were incorporated into other projects, such as Pikmin's rapid generation, and the "sphere walking" seen in Super Mario Galaxy.
Technical details
| | |
| --- | --- |
| Input / compatible controllers | |
Trivia
In Super Smash Bros. Melee, one of the Event Match missions is titled "Super Mario 128", in which the objective is to defeat 128 tiny Marios (which appear in small groups).
External links
References