Site Notice
Please check our Coverage page to see what deserves an article and what doesn't.
Please no leaked content less than one year old, or videos of leaks.
The Legend of Zelda: Hyrule Historia
Jump to navigation
Jump to search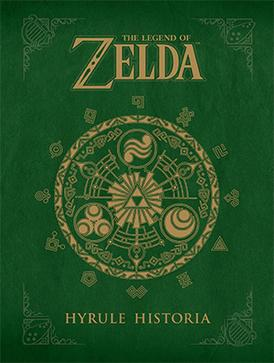 The Legend of Zelda: Hyrule Historia (Japanese: ハイラル・ヒストリア ゼルダの伝説 大全 Hyrule Historia Zelda no Densetsu Taizen literally Hyrule Historia Legend of Zelda Encyclopedia) is an official Nintendo produced publication about The Legend of Zelda series, originally released for the series' 25th Anniversary.
In Japan, the book was also published by Nintendo, whereas Dark Horse Comics would publish the book in English, Norma Editorial in Spanish, and Tokyopop in German. Before the official English translation, game development focused website GlitterBerri worked on a fan translation of the book, which was cancelled due to the book's official release in English.
The book is also popular among fans for revealing the official timeline of the series.