Site Notice
We have a limited coverage policy. Please check our coverage page to see which articles are allowed.
Please no leaked content less than one year old, or videos of leaks.
Content copied verbatim from other websites or wikis will be removed.
Fire Emblem: Radiant Dawn
Jump to navigation
Jump to search
Fire Emblem: Radiant Dawn
ファイアーエムブレム 暁の女神
Faiā Emuburemu: Akatsuki no Megami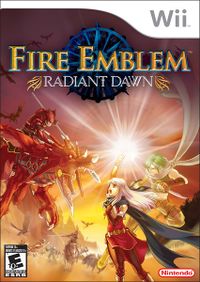 Cover artwork of Fire Emblem: Radiant Dawn
| | |
| --- | --- |
| N. America: | November 5, 2007 |
| Japan: | February 22, 2007 |
| Europe: | March 14, 2008 |
| Australia: | April 10, 2008 |
Fire Emblem: Radiant Dawn is the tenth title in the Fire Emblem franchise and a direct sequel to the previous title, Fire Emblem: Path of Radiance. The game was released for the Wii in 2007.
Blurb
Box
Fight for a Better Tomorrow!
Command the members of the Dawn Brigade, and use your strategy to free their homeland!
Build an army that suits your tactics–strike from afar with Leonardo's bow, or attack directly with Edward's blade!
Foster bonds between your allies to bolster their strength, but guide your soldiers wisely–if they fall in battle, they're lost forever!
Play in widescreen!
Nintendo website
Command the Dawn Brigade.
Three years have passed since the great war that ended in the death of Mad King Ashnard. His country of Daein suffers under the rule of the war's victors. Now, a small band of freedom fighters struggle to end the long, dark night of Daein's oppression. Micaiah, Sothe and a host of others – the infamous "Dawn Brigade" – rally under the banner of Daein's long-lost prince to bring a new day to this ravaged land.
Command the Dawn Brigade and learn the story of their struggle. Then, gain a new perspective by joining Ike and the Greil Mercenaries as they watch Daein's battles spread throughout all of Tellius.
Players can shape their armies to suit their strategy by choosing from dozens of unique characters. Should they use close-range attacks, like the brash Edward's sword, or attack from afar using Leonardo's bow or Ilyana's lightning magic?
Players can build support relationships between their characters – as their relationships grow, so do their strengths as they fight together on the battlefield. Players should guide their armies wisely, because if a character falls on the battlefield, he or she is lost forever.
The best-selling strategy title makes its Wii debut, with 16:9 widescreen support, newly added for the North American version, bringing a truly epic experience.
Story
Fire Emblem: Radiant Dawn is set three years after the events of Path of Radiance.
Gameplay
Technical details
External links
| | |
| --- | --- |
| | This article is a stub. You can help NintendoWiki by expanding it. |