Site Notice
Please check our Coverage page to see what deserves an article and what doesn't.
Please no leaked content less than one year old, or videos of leaks.
Fire Emblem Engage
Jump to navigation
Jump to search
Fire Emblem Engage
ファイアーエムブレム エンゲージ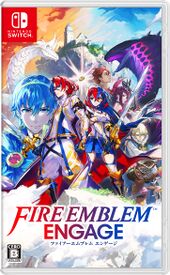 Japanese box art.
| | |
| --- | --- |
| Worldwide: | January 20, 2023[1] |
© Nintendo / INTELLIGENT SYSTEMS
Fire Emblem Engage is a strategy role-playing game in the Fire Emblem series, developed by Intelligent Systems for the Nintendo Switch. The game was released in January 2023.[1]
In addition to the standard edition of the game, a special "Divine Edition" will also be available upon release, which, in addition to a copy of the game, also features a SteelBook game case, character art cards, an art book, and a poster.[2]
Nintendo website
---
In a war against the Fell Dragon, four kingdoms worked together with heroes from other worlds to seal away this great evil. One-thousand years later, this seal has weakened and the Fell Dragon is about to reawaken. As a Divine Dragon, use rich strategies and robust customization to meet your destiny—to collect Emblem Rings and bring peace back to the Continent of Elyos.

Team up with iconic heroes from past Fire Emblem games

Summon valiant heroes like Marth and Celica with the power of Emblem Rings and add their power to yours in this brand-new Fire Emblem story. Aside from merging appearances, Engaging lets you inherit weapons, skills, and more from these battle-tested legends. The turn-based, tactical battle system returns with a fresh cast of characters you can customize and Engage to carefully craft your strategy.
Fire Emblem Engage is set on a continent called Elyos. One thousand years before the events of the game, the four kingdoms of Elyos worked together alongside the spirits of warriors from other worlds called Emblems to seal away a Fell Dragon. When the protagonist, a Divine Dragon, awakes in the present day, they and their allies fight to gather the twelve Emblem Rings once again and prevent the Fell Dragon from returning to the world.[1]
Gameplay
[
edit
]
The game features a similar tactical gameplay system to previous Fire Emblem titles, with players moving characters across a grid-based map to battle against enemies. New to Fire Emblem Engage are items called "Emblem Rings", which, when equipped, allow units to use the abilities of previous Fire Emblem protagonists.
Similar to Fire Emblem: Three Houses, Fire Emblem Engage also features free-roaming overworld segments, allowing players to prepare for upcoming battles and interact with other characters.[1]
Reception
[
edit
]
Fire Emblem Engage was the top-selling title on the week of its release in Japan according to Famitsu, selling approximately 144,558 copies.[3]
Technical details
[
edit
]
Media

Nintendo Switch Game Card
Digital download

Download size

15 GB

Supported features

Nintendo Switch Online (Online Play, Save Data Cloud)
amiibo (Read Only)

Input / compatible controllers
Additional content
[
edit
]
Updates
[
edit
]
| Version no. | Release date(s) | Description |
| --- | --- | --- |
| 1.1.0 | January 19, 2023 | Adds compatibility with the first wave of Expansion Pass content, adds an option to access the Nintendo eShop to the title screen menu, adds "Update Bonus" to Somniel, adds online functionality. |
Downloadable content
[
edit
]
Prior to the release of the game, a cross-promotion for Fire Emblem Heroes was announced, allowing players to redeem a free My Nintendo reward starting on January 19, 2023, to receive a download code for the "Order of Heroes Item Set". This set includes the Fólkvangr, Fensalir, and Nóatún weapons, as well as S-rank Bond Rings for Alfonse, Sharena, and Anna.[4]
An "Expansion Pass" for Fire Emblem Engage was announced during The Game Awards 2022 and made available to purchase at the same time. The pass is set to include four waves of content to be released throughout 2023.[5] The contents of the Expansion Pass cannot be purchased individually.
Wave 1 (January 20, 2023) - Includes Tiki and Edelgard, Dimitri, and Claude as additional Emblem characters, the Divine Paralogue to unlock Tiki, a set of stat-boosting items, a set of additional accessories, and the Silver Card item.
Wave 2 - Includes additional Emblem characters, a set of items and crafting materials, a set of additional accessories.
Wave 3 - Includes additional Emblem characters.
Wave 4 - Includes an additional side story and additional unit classes.
External links
[
edit
]


Fire Emblem Engage on other NIWA Wikis:
References
[
edit
]