Site Notice
Please check our Coverage page to see what deserves an article and what doesn't.
Please no leaked content less than one year old, or videos of leaks.
Fire Emblem: Shadow Dragon
Jump to navigation
Jump to search
Fire Emblem: Shadow Dragon
ファイアーエムブレム 新・暗黒竜と光の剣
Faia Emubremu: Shin Ankoku Ryū to Hikari no Ken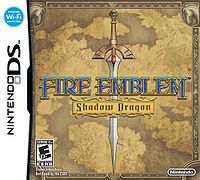 North American box art.
| | |
| --- | --- |
| N. America: | February 16, 2009 |
| Japan: | August 7, 2008 |
| Europe: | December 5, 2008 |
| Australia: | February 26, 2009 |
Fire Emblem: Shadow Dragon is a Nintendo DS remake of the Japan-exclusive Famicom title Fire Emblem: Shadow Dragon and the Blade of Light, and regarded as the eleventh installment in the Fire Emblem series. The game was released in August 2008 in Japan and was later released worldwide in 2009, making it the first release of Shadow Dragon and the Blade of Light outside of Japan.
Box
---
Shadows are Gathering

Discover the origins of the Fire Emblem saga!

Assemble and army and use your strategy to outsmart and outfight the forces of darkness. Position your archer to rain arrows on your foes, or charge full-speed into the enemy flank with a Cavalier!
The all-new prologue introduces you to the art of war and sets the stage for Prince Marth's battle to free his stolen homeland.
Nintendo website
---
Game storyline: Medeus, the king of the dragonkin, has been revived and is forming an alliance with a fearsome sorcerer named Gharnef. Together, they threaten to the throw the entire continent of Archanea back to an age of chaos and war. Now, it's up to young Prince Marth and his small band of loyal followers to rise up and rally all those left in the land to make one last desperate push to free Archanea from the tyranny of the Shadow Dragon.

How to progress through the game: Fire Emblem: Shadow Dragon is a turn-based strategy game with a fantasy setting. Players alternate turns with opponents, moving their pieces (units) and attacking enemy units on the battlefield. There are dozens of units and different weapons and magic spells, each with its own strategic benefits-high-flying Pegasus knights move effortlessly over varied terrain, fast-moving mounted cavaliers can use swords and lances, unarmed curates use healing staves to mend the wounds of other units and so on.

Characters: Many groups play a part in a story but undoubtedly the story's protagonist, Prince Marth, will be the focus for most. Marth has been featured in the Super Smash Bros. series and has been extremely popular within those games, but this is his first time starring in a Fire Emblem game in the United States. At Marth's side is a support of fearless fighters, including the brave Caeda, a princess of the Talys kingdom. Other major characters include the evil sorcerer Gharnef and the sole surviving descendant of the royal House Archanea, Princess Nyna.

Fire Emblem returns to its roots with a total overhaul of an NES classic never before released in America. New features include touch-screen controls, multiple save options and easy-to-follow tutorial chapters that shed new light on Marth's story. New players can jump into the action, even if they've never played a Fire Emblem game before.
Take the battle online and clash with players around the world over Nintendo Wi-Fi Connection. You can also borrow units to use in your army, talk with friends using the built-in Nintendo DS microphone and even buy rare and powerful items from the Online Shop using in-game currency.
You are the general: Shape your army to suit your strategy by selecting from dozens of characters with unique spells and abilities. But guide your army wisely, because if a character falls on the battlefield, he's lost forever.

Special Features:

Fire Emblem: Shadow Dragon is the first to offer players a chance to test their skills against other players in combat. Using your broadband connection, Nintendo Wi-Fi Connection and wireless play modes, players are able to send units they've trained into battle against those of another player. Collect optional cards to give your team a unique tactical bonus that can help you clench victory. During Nintendo Wi-Fi Connection matches, friends can talk to each other using the built-in Nintendo DS microphone.
Touch-screen controls, multiple save options and an easy-to-follow tutorial allow novice players to jump into the action, even if they've never played a Fire Emblem game before.
Borrow units wirelessly or through Nintendo Wi-Fi Connection and use them in your own battles with the Loan Unit feature.
Six levels of difficulty ensure that even seasoned players can find a challenge in this new entry into the Fire Emblem series.
Purchase rare and powerful items using the gold you've acquired during your single-player campaign with the Online Shop feature. You never know what items you might come across, because new items rotate in and out of the armory on a daily basis.
Play through the events that brought Marth to the beginning of his quest through a new set of prologue chapters that were specially added to the game for its Nintendo DS release.
Gameplay
[
edit
]
Fire Emblem: Shadow Dragon retains most elements of the original game. One of the new gameplay elements is the addition of an optional four-chapter prologue featuring new characters, as well as adding "Gaiden" chapters, extra side-stories that primarily allow players to recruit new characters. Series standard features introduced in titles following the original game, such as the weapon triangle, separate Strength and Magic stats, and the combat forecast, have been implemented. Gameplay makes use of both screens, the top screen showing battles and character statistics while the bottom screen is used to move characters across the grid-based map. Players can save their game after every battle, or by reaching a single-use save point in every chapter.
Shadow Dragon is the first title in the series to incorporate online play in addition to local wireless multiplayer. Two players can battle each other with five of their units to either defeat the enemy team or complete a certain objective first. Players can also loan out units to other players for in-game currency, and players who have exchanged Friend Codes can use voice chat.
Technical details
[
edit
]
Other releases
[
edit
]
Title
Cover art
Platform
Release date(s)
Notes
Fire Emblem: Shadow Dragon
Wii U (Virtual Console)
NA: December 8, 2016
JP: February 10, 2016
EU/AUS: July 2, 2015
A direct port of the game released as a digital download on the Nintendo eShop for Wii U, with added Virtual Console emulator features.
External links
[
edit
]


Fire Emblem: Shadow Dragon on other NIWA Wikis: