Site Notice
We have a limited coverage policy. Please check our coverage page to see which articles are allowed.
Please no leaked content less than one year old, or videos of leaks.
Content copied verbatim from other websites or wikis will be removed.
Game Processor
Jump to navigation
Jump to search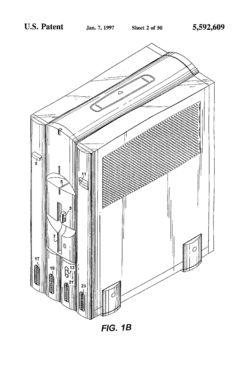 The Game Processor is a special software development kit by Nintendo/Intelligent Systems. The hardware was used by students at the HAL College of Technology & Design. The Game Processor was made because the Nintendo & Dentsu Game Seminar was relatively popular. Nintendo received more applicants than they could manage, which lead to more game design sessions at HAL College of Technology & Design.[1] The main software for it is Mario Factory, which allows the creation of Super Famicom compatible games.
Satoshi Yamato, Satoshi Nishiumi, Toshiaki Suzuki, Toshiyuki Nakamura, Makoto Kimizuka take credit as inventors of the Game Processor.[2]
From January 1996, Nintendo and St.GIGA would distribute six games in various HAL College Special editions of the Game Tora no Ouana Satellaview magazine series.
The concept of Mario Factory is similar to Nintendo's consumer software creation tools in video games, spanning from early games such as Family BASIC to later games such as Game Builder Garage.
Hardware
The setup contains a 32-bit computer and Super Famicom hardware. Video output uses the "Super Impose" technology in which outputs are overlaid by each other, similar to Sega's 32X. The kit is plugged into a consumer TV with four controller ports, with compatibility for Super Famicom controllers, the SNES Mouse and a unique keyboard.
Based on a patent, the specifications are:
Game Processor 32-bit "Main" hardware:
CPU: NEC V810 @ 21.477 MHz (32-bit RISC CPU)
Display: S-PPU (Super Famicom PPU)
RAM: 4 MB DRAM, can be expanded to 24 MB
ROM: 1 MB BIOS ROM, contains Boot, OS and Fonts
Internal Storage: 1 MB FLASH Memory
External Storage: 3.5" Floppy Disk Drive
Security: ID Card (CIC), can contain configuration information
Expansion Slots: Modem Slot, SCSI Expansion Board Slot (to IBM PC Compatible, Scanner, Printer, Hard Disk Drive...)
Real Time Clock
Super Famicom:
Game Processor Super Famicom "Game" hardware:
ROM: 128 KB Monitor BIOS ROM
Slots: 4 Controller Slots (Controller, Mouse, Keyboard), Microphone Jack
Game Processor RAM Cassette
Game Processor RAM Cassette (GPC-RAMC-4M) hardware:
RAM: 512 KB SRAM, Battery-backed
Battery: CR2025, replaceable
RAM Map: Mode 21 (HiROM)
Write Protection: 4-bit counter-based (74LS191)
Security: CIC F411B
Games
Game tora no Ouana - HAL College Special
Easy Racer
Sweet Honey Action
PAずLE & BREっど (Puzzle & Bread)
FLOWER
Radio Puzzle (ラジパズ)
Wonderful my race
Staff
Nintendo:
Intelligent Systems:

Controllers and accessories
Add-on devices
* - Cancelled
See also
Patents:
References