Site Notice
We have a limited coverage policy. Please check our coverage page to see which articles are allowed.
Please no leaked content less than one year old, or videos of leaks.
Content copied verbatim from other websites or wikis will be removed.
Nintendo Switch Online Expansion Pack
Jump to navigation
Jump to search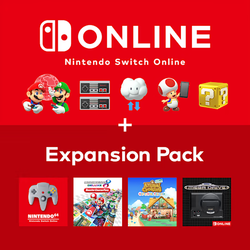 The Nintendo Switch Online Expansion Pack is an improvement to Nintendo Switch Online. It was released at an additional cost ($49.99 for a yearly subscription with the Expansion Pack, as opposed to $19.99 for the regular subscription without it). An annual family membership for up to 8 users is also available ($79.99 for a yearly subscription as opposed to $34.99 without it).
In Europe and the United Kingdom, the yearly subscription for the Expansion Pack is €39,99 / £34.99 (individual membership) or €69,99 / £59.99 (annual family membership).
The Expansion Pack adds access to select Nintendo 64, Game Boy Advance, and Sega Genesis games, with new titles being added to the service in the future. These games can be played either online or locally with friends and like the regular subscription, voice chat is also available with the Nintendo Switch Online app. There is also a special offer for the Nintendo 64 Controller for Nintendo Switch.
The Happy Home Paradise downloadable content for Animal Crossing: New Horizons and Mario Kart 8 Deluxe's Booster Course Pass is available with it.[1]
| | |
| --- | --- |
| | This article is a stub. You can help NintendoWiki by expanding it. |
References
Nintendo online services
 • Famicom Network System (Famicom, 1988)
 • Satellaview (Super Famicom, 1995) (scheduled satellite broadcast/download, but not Internet)
 • Randnet (Nintendo 64DD 1999)
 • Mobile System GB (Game Boy Color/Game Boy Advance w/Mobile GB Adapter and mobile phone, 2001)  • Online Nintendo GameCube gameplay (Nintendo GameCube, w/GameCube Broadband Adapter/Modem Adapter, 2002)
 • Nintendo Wi-Fi Connection (Wii, Nintendo DS Lite, Nintendo DSi, Nintendo DSi XL optionally w/Nintendo Wi-Fi USB Connector, Nintendo DS & DSi Browser, 2006)
 • Nintendo Network (Nintendo 3DS, Wii U, Web, 2012/3)
 • Nintendo Switch Online (2018; Nintendo Switch)
 • Websites (Nintendo web browser games)